Everbridge Partners with COP28 World Climate Summit to Present on Value of Building Organizational Resilience in the Face of Growing Climate Risk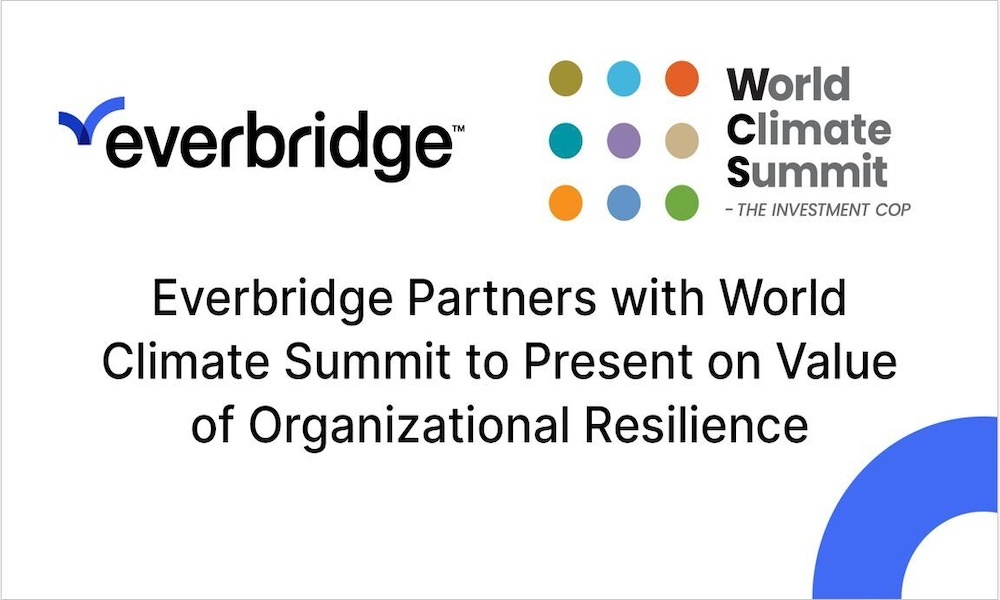 Critical Event Management (CEM) Leader to Discuss Role of Technology and Insurance in Helping Governments and Businesses Adapt to Extreme Climate Events
LONDON, UK, November 1, 2023 — Everbridge, Inc. (Nasdaq: EVBG), the global leader in critical event management (CEM) and national public warning solutions, today announced its partnership with the COP28 World Climate Summit – The Investment COP to present on how the combination of Public Safety technology and index-based insurance can help to mitigate the growing impact of climate change on governments and businesses. Everbridge is a leader in demonstrating the first-of-its-kind benefits of leveraging public safety solutions with insurance offerings to provide a holistic approach for organizations to address climate risk and resilience.
In an interview with the World Climate Foundation, Everbridge CEO Dave Wagner explained that "climate-related events have become more frequent and severe, with a far-reaching impact on communities and businesses. As climate change accelerates, it's evident that governments and enterprises must adapt to a new reality of increased risk."
"We know that organizations failing to prioritize climate resilience and address the sustainability and business continuity agenda will find themselves impacted by significant operational disruptions," said Wagner. "Corporate boards all over the world are aware that customers are requiring better climate adaptation policies. Thus, governance will become an increasingly important factor in the private sector strategy toward climate change."
Everbridge will participate in the "Ensuring a Climate Resilient Future Through Insurance" fireside chat taking place at the Summit on December 7, 2023, at 14:05 (GMT) in Dubai, United Arab Emirates. Everbridge Chief Security Officer Tracy Reinhold will take part in the chat – moderated by Insurance Development Forum (IDF) Secretary General Ekhosuehi Iyahen. The discussion will focus on the important role the insurance industry plays in the transition to a net-zero economy, exploring the question: As risk managers and insurers, how can we ensure the growth of low-carbon solutions that support the transition towards net-zero through policies and risk advisory services to incentivize climate mitigation?
Everbridge will also showcase the company's Risk Intelligence capabilities at the conference, with a focus on climate-related data insights.
Wagner continued, "We are committed to continually innovating and expanding our solutions to meet the evolving challenges posed by climate change. We invest in AI and we partner with many different climate stakeholders. Because of the unique capabilities we deliver to make organizations resilient, we envision a future where our platform plays a central role in helping governments and businesses adapt to and mitigate the impact of climate-related events."
Everbridge collaborates with governments, NGOs, academia, and industry partners to enhance resilience to climate-induced risk. In recent years, Everbridge launched partnerships with United Nations institutions such as the ITU and UNDRR ARISE while fostering relationships with academia, such as the University College London Warning Research Center. These collaborations involve sharing best practices, integrating data sources, informing policy advice, and developing joint solutions to foster innovation for climate adaptation strategies.
Everbridge's solutions also support the UN's Sustainable Development Goal 13 and 17 by enhancing the public safety role played by disaster management and relief organizations, and backing international organizations' efforts to ensure that 'by 2025 all countries have the capability for effective, authoritative emergency alerting' as stated in Everbridge's endorsement of the IFRC, ITU, and WMO'sCall to Action on Emergency Alerting.
About Everbridge
Everbridge (Nasdaq: EVBG) empowers enterprises and government organizations to anticipate, mitigate, respond to, and recover stronger from critical events. In today's unpredictable world, resilient organizations minimize impact to people and operations, absorb stress, and return to productivity faster when deploying critical event management (CEM) technology. Everbridge digitizes organizational resilience by combining intelligent automation with the industry's most comprehensive risk data to Keep People Safe and Organizations Running™. For more information, visit https://www.everbridge.com/, read the company blog, and follow on Twitter. Everbridge… Empowering Resilience.
Cautionary Language Concerning Forward-Looking Statements
This press release contains "forward-looking statements" within the meaning of the "safe harbor" provisions of the Private Securities Litigation Reform Act of 1995, including but not limited to, statements regarding the anticipated opportunity and trends for growth in our critical communications and enterprise safety applications and our overall business, our market opportunity, our expectations regarding sales of our products, our goal to maintain market leadership and extend the markets in which we compete for customers, and anticipated impact on financial results. These forward-looking statements are made as of the date of this press release and were based on current expectations, estimates, forecasts and projections as well as the beliefs and assumptions of management. Words such as "expect," "anticipate," "should," "believe," "target," "project," "goals," "estimate," "potential," "predict," "may," "will," "could," "intend," variations of these terms or the negative of these terms and similar expressions are intended to identify these forward-looking statements. Forward-looking statements are subject to a number of risks and uncertainties, many of which involve factors or circumstances that are beyond our control.
Our actual results could differ materially from those stated or implied in forward-looking statements due to a number of factors, including but not limited to: the ability of our products and services to perform as intended and meet our customers' expectations; our ability to successfully integrate businesses and assets that we may acquire; our ability to attract new customers and retain and increase sales to existing customers; our ability to increase sales of our Mass Notification application and/or ability to increase sales of our other applications; developments in the market for targeted and contextually relevant critical communications or the associated regulatory environment; our estimates of market opportunity and forecasts of market growth may prove to be inaccurate; we have not been profitable on a consistent basis historically and may not achieve or maintain profitability in the future; the lengthy and unpredictable sales cycles for new customers; nature of our business exposes us to inherent liability risks; our ability to attract, integrate and retain qualified personnel; our ability to maintain successful relationships with our channel partners and technology partners; our ability to manage our growth effectively; our ability to respond to competitive pressures; potential liability related to privacy and security of personally identifiable information; our ability to protect our intellectual property rights, and the other risks detailed in our risk factors discussed in filings with the U.S. Securities and Exchange Commission ("SEC"), including but not limited to our Annual Report on Form 10-K for the year ended December 31, 2022 filed with the SEC on February 24, 2023 and other subsequent filings with the SEC.
The forward-looking statements included in this press release represent our views as of the date of this press release. We undertake no intention or obligation to update or revise any forward-looking statements, whether as a result of new information, future events or otherwise. These forward-looking statements should not be relied upon as representing our views as of any date subsequent to the date of this press release.
All Everbridge products are trademarks of Everbridge, Inc. in the USA and other countries. All other product or company names mentioned are the property of their respective owners.
Everbridge Contacts:
Jim Gatta
Media Relations
jim.gatta@everbridge.com
215-290-3799
Jeff Young
Media Relations
jeff.young@everbridge.com
781-859-4116