Press Release
Everbridge Partners With Information Security Hub at Munich Airport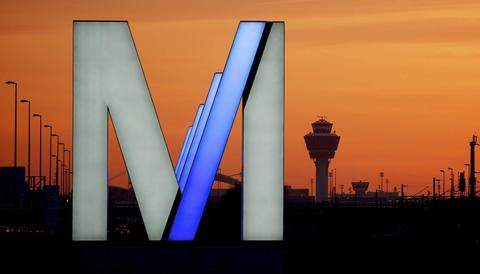 Everbridge supports ISH with its Safety Connection, Crisis Commander and IT Alerting solutions.
[Please Note: this release is the English translation of news issued originally in German.]
Munich, April 3, 2019 — Everbridge, Inc. (NASDAQ: EVBG), the global leader in critical event management and enterprise safety software applications to help keep people safe and businesses running, announced it is supporting the Information Security Hub (ISH) at Munich Airport with its crisis and disaster management solutions. As a competence center, unique in Germany, ISH bundles forces in the fight against criminal hackers and prepares IT security experts for emergencies with realistic training.
The number of attacks on the IT systems of German companies and authorities has risen rapidly in recent years. In response, the Information Security Hub (ISH) was created. At the ISH, IT specialists at Munich Airport, together with experts from the aviation industry and other industries, test defense strategies against attacks from the Internet and search for new solutions in the fight against cybercrime. Everbridge, a leader in Critical Event Management, is a new partner of the Information Security Hub and supports the competence center with its solutions Safety Connection, Crisis Commander and IT Alerting.
The ISH, located in the former airmail control center at Munich Airport, is a platform for cross-company cooperation: Companies, public authorities and other institutions can train and educate their own security experts here, regardless of the industry, and intensively test future technologies and processes. The "playground" for cyber professionals includes an ultra-modern test and practice environment in which attacks on computer systems can be simulated. The Cyber Simulation Range (CSR) integrates a wide range of IT and OT (Operational Technology) elements to create a realistic training and testing environment that can be adapted to a variety of different systems and scenarios. Companies can thus either build their own IT infrastructure or build alternative variants. Everbridge's solutions, for example, are used to map intelligent critical event management. These include technical emergencies such as the failure of critical infrastructure components, cyber attacks or DDoS attacks, but also natural disasters or attacks on employees. With the help of a CEM (Critical Event Management) platform, which automatically processes the workflows defined in emergency plans and uses message templates in different languages, expert teams can get up to speed very quickly and defuse a crisis situation.
"In view of the increasing threat, it is more important than ever today to pool expertise, share knowledge and train security experts onthis basis," emphasizes Marc Lindike, Head of Information Security Assurance at Flughafen München GmbH. "The ISH is a unique platform in Germany and has the potential to develop blueprints for the fight against cyber criminals. To do this, we need partners like Everbridge to be able to map realistic scenarios."
"Companies taking advantage of the ISH are looking for innovative solutions and new approaches in the field of security. In addition to know-how, the right infrastructure plays a decisive role. We provide the appropriate solutions and tools. In the end, the right tools in the hands of experts make the difference," explains Andreas Junck, Director of Sales DACH at Everbridge.
Everbridge, Inc. (NASDAQ: EVBG) is a global software company that provides enterprise software applications that automate and accelerate organizations' operational response to critical events in order to keep people safe and businesses running. During public safety threats such as active shooter situations, terrorist attacks or severe weather conditions, as well as critical business events including IT outages, cyber-attacks or other incidents such as product recalls or supply-chain interruptions, over 4,400 global customers rely on the company's Critical Event Management Platform to quickly and reliably aggregate and assess threat data, locate people at risk and responders able to assist, automate the execution of pre-defined communications processes through the secure delivery to over 100 different communication devices, and track progress on executing response plans. The company's platform sent over 2.8 billion messages in 2018 and offers the ability to reach over 500 million people in more than 200 countries and territories, including the entire mobile populations on a country-wide scale in Sweden, the Netherlands, the Bahamas, Singapore, Greece, Cambodia, and a number of the largest states in India. The company's critical communications and enterprise safety applications include Mass Notification, Incident Management, Safety Connection™, IT Alerting, Visual Command Center®, Crisis Commander®, Community Engagement™ and Secure Messaging. Everbridge serves 9 of the 10 largest U.S. cities, 9 of the 10 largest U.S.-based investment banks, all 25 of the 25 busiest North American airports, six of the 10 largest global consulting firms, six of the 10 largest global auto makers, all four of the largest global accounting firms, four of the 10 largest U.S.-based health care providers and four of the 10 largest U.S.-based health insurers. Everbridge is based in Boston and Los Angeles with additional offices in Lansing, San Francisco, Beijing, Bangalore, Kolkata, London, Munich, Oslo, Stockholm and Tilburg. For more information, visit www.everbridge.com, read the company blog, and follow on Twitter and Facebook.
PR-COM GmbH
Nadine Harbeck
Sendlinger Gate Square 6
D-80336 Munich, Germany
+49 89 599 97 805
nadine.harbeck@pr-com.de
www.pr-com.de
Jeff Young
Everbridge
jeff.young@everbridge.com
781-859-4116