Public Warning Systems beyond 2022
Public Warning Systems: Keeping Pace With Technology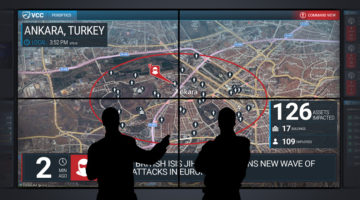 My previous blog looked at public warning systems beyond 2022 in the context of the changing threat landscape. In this blog I'll be considering how the landscape for communication technology might evolve beyond 2022 and the implications for pubic warning systems.
The latest EENA report "Public Warning Systems 2019 v3." includes a challenging statement for anyone involved in delivering effecting public warning systems now and in the future:
"For public warning there is no single solution that fits all requirements to reach all citizens in case of an emergency.
Therefore, multiple technologies need to be considered." (European Electronic Number Association https://eena.org/)
Adopting multiple technologies to provide a public warning system may therefore be a choice that many countries make to meet the requirements of EECC Article 110.
However, it amplifies the issue of technology obsolescence. The pace of innovation in communications technology is undeniably relentless. 5G and subsequent advances will bring faster internet services and more and more aspects of daily life are becoming internet enabled or are using machine learning and artificial intelligence. Safer cities are
So, a public warning system should not be built on a solution that becomes unusable or outdated in just a few years – and should be capable of adapting to developments and changes in the way the public communicates.
To truly assess the usefulness of these technologies we need to look at what we are trying to achieve with public warning systems through a new lens – one that points to the future – rather than focusing on the application of new technologies to old models.
In their earliest incarnations, public warning systems were focused on warning a population about a specific type of threat – for example if an area were prone to flooding or natural disasters such as earthquakes. This simplistic view of public warning systems is no longer applicable and there are three key trends shaping the future of public warning systems:
Multi Channel, Multi Hazard. There is now a common recognition that populations may be exposed to a multitude of threats that should be supported by a public warning system. Additionally, the audiences themselves are diverse and communicate in a range of ways determined by socio-economic and geographical factors. In short, alerting systems need to be able to reach all of these audiences – and leave no-one behind.
Transboundary crisis management – best practices are expanding to support incidents that cut across: geographic, policy, political, cultural, language, and legal areas
Balance – It is well recognised that whilst speed of response remains important, stakeholders need to balance this against managing the life-cycle of the incident, ensuring alerts reach the right people, at the right time and with a clear message that enables them to act, whether a member of the public or other stakeholder.#
What do we need Public Warning Systems to do in future?
There are five key areas across which future public warning systems need to perform to meet the requirements of reaching all citizens and ensuring a multi-agency response to an incident:
Communicate across all phases of an incident
PLAN, ALERT, RESPOND, RECOVER
From pre-incident drills, to alerts, management, and post-event recovery, the public warning system has a role to play
Communicate with all stakeholders
From citizens, to community volunteers, emergency services, support agencies and government departments. All resources available to support an incident should be known and contactable at the moment an incident occurs across multiple channels.
Leverage location intelligence:
STATIC LOCATION – Where do people live and work most of the time?
LAST KNOWN LOCATION – Where are people now, historic 'snapshots' of where people were 6 hours ago?
EXPECTED LOCATION – Where do people regularly spend time outside their home such as visiting family or community activities today?
By using location intelligence authorities can track the location of those requiring assistance, the density of people in an incident area, or how they are moving as a result of the incident. Equally a hazard may lay unidentified in an area, and it becomes necessary to alert all individuals in the area for the previous 24 hours using historical location data. Location information can be critical in determining the message to send to the public in any given area, or the allocation of emergency services. With citizen consent, it's even possible to build models related to population densities at given times or predict the likely location of an individual based on historical behaviour.

Communicate with the right people at the right time.
At each stage of an incident, authorities need to be able to answer the questions: Who can help? Who is impacted? Who needs to know? For each category of stakeholder, authorities should know how best to contact them based on the incident and communication that needs to be sent.

Maximise the effectiveness of public warnings
A 'hybrid' approach to a Public Warning System could integrate Cell Broadcast and Location Based SMS in a way that allows the system to maximise both reach and performance and brings the benefits of both technologies into one platform.
Applying the tech to the task
It is easy to see how some of the new technologies will be useful. 5G offers improved signal strengths, range, material penetration, bandwidth and location date. Machine Learning can analyse huge swathes of data to find patterns and make predictions that would take humans months. AI can be used to help with advanced decision making and situational awareness for authorities. These are just a few examples.
But beyond this technology, our increasing connectedness in society creates new opportunities for gathering data for incident predictions (such as earthquakes or flooding) and alerting citizens at risk. Imagine your smart speaker alerting you to a flood or allowing you to communicate with a rescue team. Or your autonomous car navigating you away from an area. How about sensors across smart cities, dynamically re-routing traffic, or streetlights issuing public warnings to leave an area?
The reality is that all these technologies will become part of public warning systems around the world. But, as the EENA report states, it is how they are combined and glued together to form an integrated public warning system that will define the success of any implementation. At Everbridge, building a platform that can act as a full lifecycle platform for critical events, or allow enterprises and public bodies to choose individual components to integrate into their solutions, has been at the heart of our business since our foundation in 2002.
We're at an exciting time for the future of public warning systems – with technological advances coming faster than ever before. Integration will be the key to success and, as an industry, we need to work to provide the platforms that will ensure that technological advances leave no one behind.
Interested to learn more?
This is the 8th blog in a series addressing the issues and challenges of meeting the requirements of the EU Directive 110 on population alerting.
Further reading about Population Alerting: