Everbridge Public Warning Centre
Why the World Needs Next Generation Population Alerting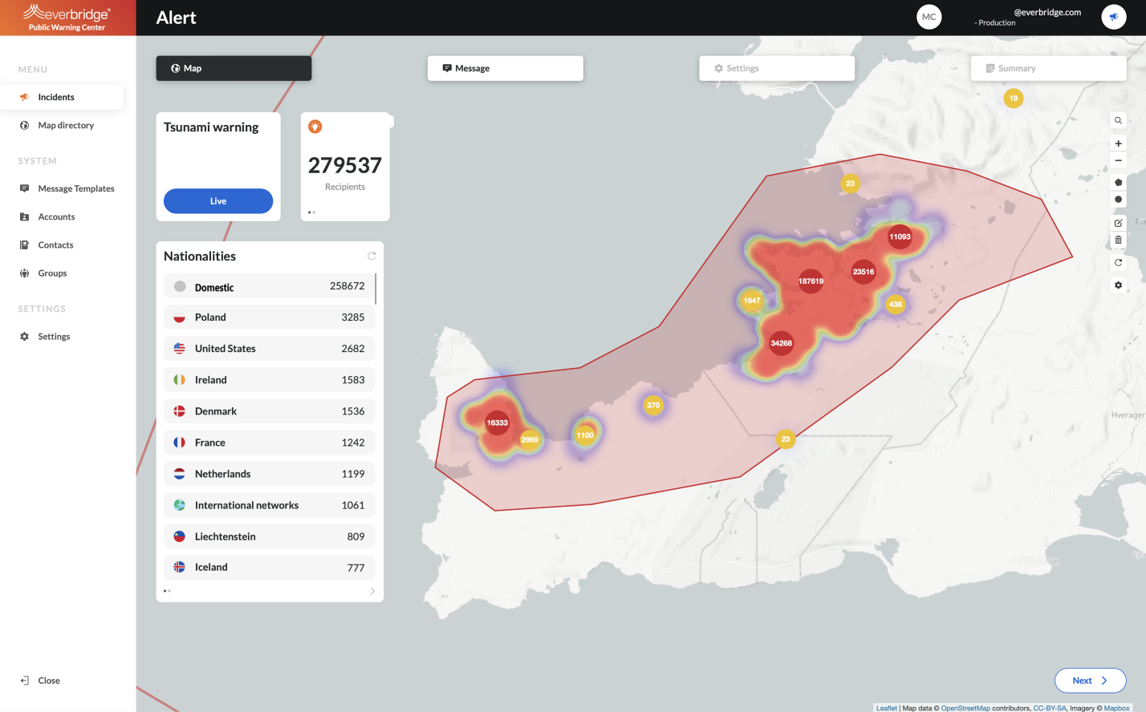 Today is an important day for Everbridge as we release our new Public Warning Centre, making it simpler and easier for Government officials to target emergency alerts to the right people, at the right time – every time and more quickly than ever before. More on that later but first let us consider why investment in emergency alerting solutions is needed and how the technology has evolved.
Unsurprisingly, the COVID-19 pandemic will rank in history as the most expensive global disaster. However, it may surprise you to learn that despite the pandemic, 2020 was one of the costliest years for insurers with $83 billion in losses globally. The top ten most expensive disasters of 2020 included hurricanes, floods, wildfires, cyclones, and locust storms (source: Christian Aid, qz.com)
Climate change is leading to more frequent and more severe natural disasters resulting in long-term social, economic, and environmental consequences and whilst the infrastructure can be rebuilt, the loss of human life cannot be replaced.
As the recent volcano in St Vincent illustrates; effective communication during crisis events is vital to help people evacuate, find shelter and fresh water, and coordinate the response & rescue efforts until conditions are safe to return.
From Drums to Smartphones:
The Evolution of Population Alerting Technology.
The history of emergency warnings is interesting.
Since man first walked the earth, our leaders have had to think about the best way to alert their people from the threat of a sabre tooth tiger to an imminent seaborne invasion. Simple but effective public warning systems began in ancient times when many civilisations used drums for celebration but also to warn of approaching invaders, accompanied by fires constructed as large beacons on high ground. This evolved into bells rung from religious buildings which were then adapted for use by fire fighters from the 17th century to alert residents to evacuate. Sirens were invented in the 18th century and were vital to warning the public of bombing raids during World War II and have been used widely ever since across industry and by governments to warn of natural or manmade disasters, including tsunamis and severe storms.
Until very recently where I live in the UK, a siren used to ring out every Wednesday morning from a local high security prison. If the siren went off at any other time, it would indicate an escaped prisoner, and all local schools would go into lock down.
Today, the advance of technology has made it possible for governments to alert us through many different channels including sending us an email, leaving a recorded voice message on our landlines or mobile phones, emergency alerts during live television or radio programmes, emergency messages on digital signage above motorways or in train stations and of course social media updates via Twitter and Facebook.
All these channels can work in harmony to provide us with trusted and reliable information when we most need it, but above all else, it is the internet and the mobile phone that has transformed how we live and communicate and is now the most vital channel for warning and informing the public during emergencies.
As an example, of how the mobile has transformed emergency alerts, let us go back to 1999. That year, a mega cyclone ripped into the eastern coast of India resulting in the loss of over 7,000 lives. Some 20 years later in 2019 another huge tropical storm 'Cyclone Fani' made landfall along the Indian coast affecting Odisha and Bangladesh. The Indian and Bangladeshi authorities evacuated more than a million people onto higher ground through public warning sirens, television announcements and approximately 2.6 million targeted text messages warning the population to evacuate or take shelter. As a result, less than 100 people lost their lives. The use of a combined approach to warning the public – including mobile phones, clearly saved lives. (Read more New York Times)
Whilst this shows that technology helped to protect more people, any loss of life however low, is still a tragedy, which brings me back to our news today.
The rapid pace of change in mobile networks and smartphone technology has allowed Everbridge to innovate our emergency alerting solutions to ensure that no one is left behind because the message did not reach them.

The Future is Here:
Next Generation Public Warning

To illustrate some of these new innovations I will share a personal story.

One a warm summer evening in 2017 I was with friends enjoying live music from one of my favourite bands in the Olympic stadium in London. Earlier that day, we travelled by train into London Waterloo and since it was fine weather, we enjoyed a casual stroll along the Southbank taking in the sights and browsing the food stalls at Borough Market, before travelling onto East London. The event ended around 10:30pm and we left the stadium as part of a huge crowd of fans to make our way to the nearest station and begin our journey home. An hour later and still part of a huge crowd we realised that the stations were closed. Thousands of people were jammed into the street with no mobile coverage, and we began speculating about what had happened. People around us were talking about a vehicle driving into a crowd, but there were no real details. We had no idea what was going on, we felt vulnerable. The time was 11:35pm on Saturday June 3 and police had just shot dead several terrorists after an attack on London Bridge and Borough Market which tragically claimed the lives of 8 people, including overseas visitors. After several hours we eventually found a bus and then a different train to take us out of London but many miles from home, so we called for a taxi. We arrived home at 4am, cold and tired but grateful that we were safe.
When the incident occurred, the police used social media to warn the public, but without mobile coverage where we were, we did not know what had happened, or if we were safe. The London Underground staff were overwhelmed with the volume of people trying to get home and many mainline stations were closed.
The public, the police and emergency services acted quickly and bravely to save many lives that night, but this story allows me to illustrate how the next generation public warning technology can overcome some of the emergency communication challenges for both the public and the authorities.

Reaching Everyone, Everywhere, Every time
Any delay in receiving emergency alerts could cost lives.
Our new patented technology uses 'intelligence' within the platform to calculate the most efficient way to send the alert and avoiding delays caused by network congestion or outages. This helps the authorities to take the right action, inform the right people in the right place at the right time, every time – so no-one is vulnerable or left behind.
Let us look again at my story from 2017. How could things have been different with these new innovations?
Evacuating the Incident Area Quickly
When there is an immediate threat to life, everyone in the incident area needs to receive an evacuation order without delay and without opting in for a service or downloading an App.
Back in 2017, a cell broadcast alert would have reached all mobile users within the attack area on London Bridge with a few seconds. This is the quickest method to alert people with geo targeted messages to their mobile phones. The other mobile channel is Location-based SMS.
Neither of these are new technologies but during crisis events the mobile networks can become congested as people overload the system with calls and texting, which explains why I was unable to use my phone on that summer night.
The new Everbridge system uses a patented 'Smart Send' capability which automatically chooses which of these mobile channels is the fastest based on the changing speed of the network. If there is congestion, then cell broadcast is automatically selected, since it does not rely on the network, and messages can be sent in seconds to a few hundred or several million people. Secondary alerts can be issued with more detailed information and instructions using SMS, social media, radio, TV, and digital signage.

Alerting Visitors and Tourists in their Own Language

When seconds matter, people need to receive emergency instructions that they can understand quickly in their own language. With Everbridge, messages can be sent in local language according to the visitors SIM country code.

How Many People are Still in the Area?

Before, during and after critical events, the emergency services need information to manage their response and make informed decisions.
Before an evacuation order is sent, Everbridge takes a snapshot using real time subscriber data from the network to show how many devices are connected within the incident zone, thereby indicating the number of people who may be at risk, including the nationalities of each device listed out by country. The platform displays this information on a heatmap.
10 minutes after the activation of the alert, a new location snapshot can be taken which will show movement of people away from the incident area.
This situational awareness allows responders to take appropriate action, issuing a second alert advising them to shelter in place, evacuate or sending search and rescue teams to locate victims and survivors.

Who Needs Help?

Imagine how it must feel to be hiding from an attacker, cut off by flooding or trapped after a building collapse unable to call for help and wondering if anyone knows you are there.
With Everbridge it is now possible for the emergency services to help people in this situation.
Using the situational awareness capabilities, the search and rescue teams can see how many mobiles are still in the affected area and send a directed SMS message to ask them if they are safe. The person can reply to the SMS with 1: safe, 2: need help please call, 3 + text: for providing more information.

Who Else Needs to Know?

During any incident, there will be people who are approaching the area unaware of the danger. In this case a geo fence can be set up so that people are alerted via their mobile phone when they enter the incident area.
Then there will be people who regularly travel to the area either to work or visit family. With our patented Smart Location technology, Everbridge makes it possible to alert these people based on where they spend a large percentage of their time.

Managing Large Crowds

When my friends and I left the stadium that night, we became part of a crowd of confused and worried people, and many became angry. Everyone there needed trusted information on what had happened, where to move to and how to travel home.
With Everbridge situational awareness, authorities can now see device counts on the mobile network and monitor for crowd build-ups during critical events, and then take action using targeted mobile alerts and digital signage.
Where You There?

Everbridge can also use location history to help the authorities contact people based on where they were in the recent past. For example, anyone that was in London Bridge or Borough Market on June 3 that could help with the police enquiry. This capability is also useful to help locate missing people, or contact people who may have been exposed to a hazardous chemical.

Find Out More:
With our new Everbridge Public Warning Centre we are setting the standard for next-generation population alerting systems with the only unified all-channel, intelligent critical communication platform to help public authorities protect people when it matters.