A university has relied on Everbridge for over ten years to send notifications to over 30,000 recipients, campus TVs, and their website during critical events. 
A manufacturing company in mid-Atlantic relies on Everbridge to keep over 17,000 employees safe during using Mass Notification. Mass Notification enables them to communicate with employees at risk during a critical weather event, ongoing health crisis, or security threat.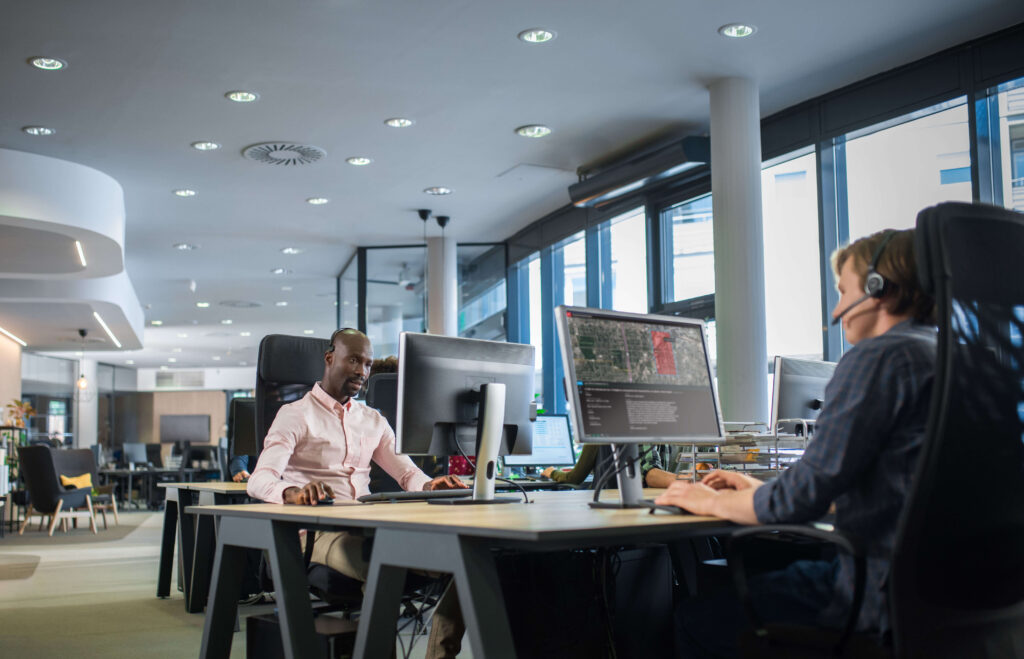 Over 20 years ago, our founders envisioned how technology could be used to create a redundant, scalable, and resilient solution to quickly and reliably alert entire populations in the face of critical events. In that time, Everbridge has built a category-leading, unified critical event management platform trusted by more than 6,500 global organizations. According to a recent Forrester Consulting commissioned study, after investing in Everbridge's CEM platform, interviewees' organizations had "the capabilities and resources to effectively respond to and contain critical events, allowing them to better protect employees, company assets, and business processes."
Since our beginnings, the Everbridge brand has stood for protecting our customers' most valuable assets, their people. We are pleased to unveil our evolved Everbridge brand, renewing our mission to keep people safe and organizations running.
Our revised logo is an elegant and simple reflection of the resilience we provide to our customers, their rapid response to critical events, and most importantly the speed and upward strength of the recovery process. Our evolved brand is also a reflection of our desire to continue to serve you, our customer, with a modern comprehensive critical event management platform.
In an increasingly unpredictable world, resilient organizations minimize the impact events have on their people and operations. In the future we imagine a world where we empower our customers to absorb stress, return to productivity faster, and be more resilient.
We are grateful for your continued support and loyalty as we embark on this exciting new chapter for our company.
David Wagner,
President & Chief Executive Officer, Everbridge
Adlan Hussain, Product Marketing
As noted in the Wall Street Journal in February 2023, physical attacks on the U.S. power grid rose 71% last year compared with 2021 and will likely increase this year.
The U.S. power grid is of critical importance to our national security and economic security, but in an increasingly connected world where physical and cyber attacks are becoming more frequent, executives must be aware of the potential risks posed by malicious actors targeting their power grids. In recent years, malicious actors have increased their efforts to penetrate and damage U.S. power grids through both physical and cyber attacks. This has been seen with the North Korean WannaCry ransomware attack on American energy companies in 2021, as well as other attacks on American nuclear and power infrastructure over the past few years. Malicious actors may also target the grid for financial gain or simply for disruption, making it essential for executives to stay vigilant when it comes to protecting their company's systems from all types of security threats.
What is critical infrastructure protection?
Critical infrastructure protection (CIP) refers to the efforts to safeguard the essential systems and assets that are vital to the functioning of a society, economy, or nation-state. These systems and assets fall within key critical infrastructure sectors that are considered essential to the functioning of a nation and its people. These sectors are typically identified by governments and international organizations and are recognized as critical because they are vulnerable to physical and cyber threats and attacks that could cause significant harm or disruption to society.
The critical infrastructure sectors can vary slightly depending on the country or organization defining them, but generally, they include power grids, water treatment facilities, transportation networks, communication systems, financial institutions, and other critical facilities. These sectors are interdependent and interconnected, meaning that an attack or disruption in one sector can have a cascading effect on other sectors and society as a whole.
The aim of CIP is to prevent, detect, and respond to any physical or cyber threats that may impact the availability, integrity, or reliability of these critical infrastructures. CIP involves a wide range of activities, such as
Risk assessment
Vulnerability analysis
Threat detection
Emergency response planning
Cybersecurity measures
What elements of the power grid are considered CIP?
The United States power grid consists of key elements that all need to be protected, which include;
Generation: The power grid begins with power plants, which produce electricity from a variety of sources, including fossil fuels, nuclear energy, and renewable resources like solar and wind.
Transmission: Once electricity is generated, it is sent over long distances through high-voltage transmission lines to substations.
Substations: These facilities step down the high-voltage electricity to lower voltages for distribution to local areas.
Distribution: Local distribution systems then deliver the electricity to homes, businesses, and other users.
Control systems: The power grid is monitored and controlled by sophisticated computer systems that ensure the proper balance of supply and demand and help prevent blackouts and other disruptions.
Workforce: A skilled workforce is necessary to operate and maintain the power grid. This includes engineers, technicians, electricians, and other professionals.
Ensuring the security and protection of these assets is critical for the functioning of society and the economy, and any disruption or attack on these power grid elements can have significant consequences. Therefore, efforts to protect the power grid from physical and cyber threats are a key component of critical infrastructure protection.
What can be done to protect critical infrastructure
Power grid operators must take a proactive approach when it comes to protecting all of the elements highlighted above. Companies should regularly assess and address weaknesses in their systems, adopt the latest technologies, and stay up to date with government regulations concerning critical infrastructure protection.
Fortunately, there are steps businesses can take to protect their operations from attack. The U.S. government has a set of regulations which sets out guidelines for how companies should implement critical infrastructure protection to protect their power grids from threat actors and other accidents that could cause ballistic damage or other forms of destruction to infrastructure and private utilities operations. Companies should strive to comply with these standards in order to remain secure against malicious intrusions and vandalism, both physical or digital.
Technologies such as Physical Security Information Management can be used to monitor their perimeter and detect threats before they have the chance to penetrate the system. Companies should also look into investing in physical security measures such as surveillance cameras, video analytics, perimeter intrusion detection systems and hostile vehicle mitigation systems.
On the digital side, cyber-attacks are becoming more prevalent for disrupting normal operations. Whether intentional harm or a way to try new code, attackers are actively looking at utilities as a way to cripple both the economy and our daily lives. While we saw the effects of the Colonial Pipeline attack, it is now realized the payoff can be beneficial and because of this more vulnerabilities are being sought after and exposed. This can be anything from passwords being leaked to legacy systems that have not been updated. Operators now have more pressure to ensure systems are up to date and there is visibility into all systems while staying current with governmental regulations.
To ensure performance in all aspects of grid operations, technology to facilitate and automate the response to incidents can be put in place with a digital operations platform. Bolstering resilience by assessing, acting, and analyzing incidents, disruptions can be handled efficiently and effectively prior to affecting customers and improving responses to future events.
By taking these steps—and staying up-to-date with government regulations—executives can ensure that their businesses remain safe against any type of attack while continuing to provide reliable service for customers across the country. Additionally, it is important for companies to build strong relationships with public security agencies like the Department of Homeland Security and local agencies to share information on threats both at a national and local level.
Contact us to learn how Everbridge can help safeguard your organization with a digital operations platform.

With the growing concern over climate change, organizations are starting to take notice of the risks that come with it. Unfortunately, many organizations are still not fully aware of the consequences of ignoring these risks, which can lead to significant business disruption and financial losses. According to research conducted by Verdantix, "more than half of organizations have less than $1 million to respond to catastrophic events, and 41% of participants stated that they had no budget at all for catastrophic events" (Navigating Climate Threats and Proactive Mechanisms to Achieve Business Climate Resilience, November 2022). With climate change disasters on the rise, it is nearly inevitable that organizations will face a crisis at some point in the near future, and the time to begin preparing is now.
The current systems and solutions in place for managing climate hazards are often inadequate, and the reliance on traditional insurance has become insufficient. But there's more to it than just the financial impact—organizations must take the necessary steps to become more resilient to the risks of climate change, keep their people safe, and position themselves to succeed in a dynamic market.
What is Climate Resilience?
Climate resilience refers to an organization's ability to anticipate, prepare for, and adapt to the impacts of climate change while maintaining essential functions and keeping people and assets safe. It requires strategies, actions, and technology that enable organizations to manage and reduce climate-related risks and seize opportunities to build a more sustainable and resilient future.
The Insufficiency of Traditional Insurance
Organizations often rely on insurance providers to provide protection against the impacts of extreme weather events. However, traditional insurance models are becoming less reliable due to the unpredictability of such events. There are often significant delays in the dispersal of funds from insurance companies, or sometimes they do not cover the claim at all. The report found that "over two-thirds of organizations had a loss caused by an extreme weather event in the two last years, with most submitting an insurance claim for these events" (Navigating Climate Threats and Proactive Mechanisms to Achieve Business Climate Resilience, November 2022). These delays or denials of funds can leave organizations unable to react and adapt quickly, leading to business disruption and financial losses.
Increasing External Pressure
Soon, if they haven't already, organizations will face significant external pressure in the form of new sustainability regulations. In fact, "74% of participants in the [Verdantix] study highlighted regulatory pressure as a key factor influencing climate risk management budgets" (Navigating Climate Threats and Proactive Mechanisms to Achieve Business Climate Resilience, November 2022). This will require organizations to evaluate their exposure to climate hazards, which means that organizations must take the necessary steps to develop adaptive strategies for risk reduction when dealing with climate hazards due to global warming, ultimately increasing their resilience. Failing to do so will result in further costs and consequences down the line.
Invest in the Future, Not Just the Present
Many organizations focus on short-term costs, ignoring the long-term benefits of investing in resilience. It is concerning that "most firms are not planning to invest in critical climate change risk management solutions" (Navigating Climate Threats and Proactive Mechanisms to Achieve Business Climate Resilience, November 2022). This lack of preparedness can lead to significant costs later on. By investing in an adaptive resilience solution now, organizations can save potentially millions down the line.
An Adaptive Resilience Solution: How to Improve Climate Resilience
To build resilience in the face of climate change, organizations need to take a proactive approach. Some tangible steps they can take are:
Implementing adaptation measures, such as reviewing and updating business continuity plans and identifying potential supply chain disruptions.
Exploring alternative finance options, such as parametric insurance.
Reviewing and updating risk management processes to ensure they are inclusive of climate change risks.
Investing in new technologies and solutions that can help better predict and respond to extreme weather events.
Often, even at a corporate level, organizations attempting to deal with a critical climate event do not have an effective or efficient way to manage the resources required to achieve resilience. Obstacles like overlapping and disconnected tools, data streams, interfaces, and teams can slow an organization's response to a crawl when every minute counts. Siloed solutions complicate processes, causing confusion when teams and command centers should be working in sync. As a result, a fully integrated and holistic approach to critical event management is crucial to unlocking climate resilience and business continuity when faced with climate hazards.
With the right solutions in place such as Everbridge's Critical Event Management (CEM) platform, organizations can minimize the impact of climate-related disruptions, recover more quickly and with less damage, and maintain their ability to operate and grow in a changing climate. According to the 2021 study published by Forrester, which analyzed the data from 11 customers using Everbridge's CEM (Critical Event Management) Platform, over a 3-year period these organizations had an average ROI of 354% (The Total Economic Impact of Everbridge CEM Platform, March 2021). Investing in such technology will ultimately help organizations remain competitive in an ever-changing economic and environmental landscape.   
An integrated CEM platform offers a holistic severe weather solution to groups charged with natural disaster management. When teams and command centers operate from a centralized platform, responses are rapid and coordinated. CEM software, for example, can send alerts that afford first responders and critical event managers precious time to assess the risks, as well as identify and locate endangered team members and assets. 
A unified emergency software platform can also automate action plans, SOPs, and communications, such as sending public safety notifications, so that teams have the information and data they need to act quickly. After, analytics pinpoint where and when bottlenecks delayed responses, as well as where changes can improve processes.
To learn more about the importance of resilience and how your organization can become more adaptive to the risks of climate change, download the full report here.
Everbridge's travel risk management solutions help keep travelers safe and organizations extend their duty of care. With Travel Protector, organizations can identify relevant threats, warn those affected and prescribe action. At any time, a comprehensive travel assistance service team, Everbridge Assist, is a call away, ready to help with any event that could impact the health, safety or wellbeing of a corporate traveler.