Blog
Digital Wayfinding and COVID-19 Response for Hospitals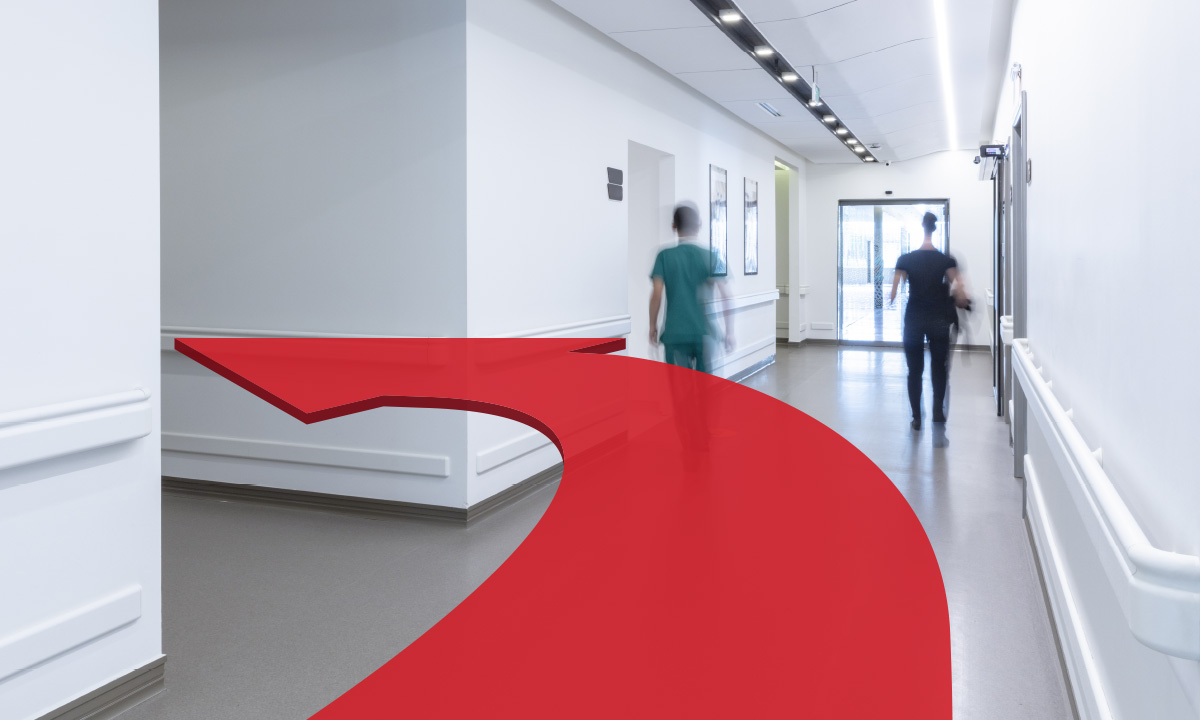 Everbridge recently spoke with Mark Green, CEO of Connexient, a recent Everbridge acquisition. Everbridge and Connexient have combined forces to provide an innovative wayfinding solution—a digital mapping and navigation product designed to help people navigate their way around a hospital campus with ease and reliability.
Mark brings more than 30 years of experience as a leader in the enterprise software and wayfinding industries, combining deep expertise, skills, and relationships that span the healthcare sector. At Everbridge, Mark manages our indoor location services capabilities and is expanding those beyond traditional digital wayfinding including our upcoming release of proximity-based contact tracing. In the interview below, we discuss the new partnership, plans for wayfinding, and COVID-19.


Q: Tell us about how partnering with Everbridge has strengthened Connexient and what the companies' products gain from each other?
A: With Everbridge's vision for IoT (Internet of Things), combined with our digital wayfinding technology, we will be providing a safety and security solution that offers the industry's only critical event management platform with indoor positioning and navigation—and that's going to be a huge differentiator for healthcare systems. Merging Connexient's indoor-location and navigation solutions with Everbridge's platform creates the most comprehensive solution for hospitals and enterprises that is key for keeping people safe during a critical event. It also provides more real-time location insights for the patient experience.
In the patient experience space, we recently partnered with UC Irvine Health to create a complete "Home to Appointment" patient journey by integrating digital wayfinding with Epic MyChart. With this seamless integration of Wayfinding with appointment scheduling, patients are guided to their appointment destination with precision and reliability. The result is a safer, improved patient experience. This is especially important now when hospitals are limiting patient flow to designated areas of the hospitals to separate COVID-19 treatment areas from areas of the hospitals resuming elective care. By taking these preventive measures, hospitals can restore patient confidence in the safe return to a hospital setting.

Q: How does wayfinding improve the patient experience?
A: Typically, wayfinding is about improving patient and visitor experience, making it less stressful to navigate throughout a facility and getting people to their appointments on time. We're providing that familiar indoor GPS capability to help them navigate through these large complex facilities—this even includes getting the patient or visitor to the closest parking garage on campus. The focus is on the patient experience and how outdoor/indoor navigation can be integrated into a hospital's overall mobile strategies.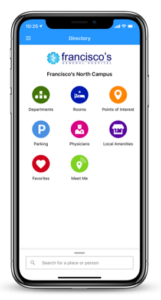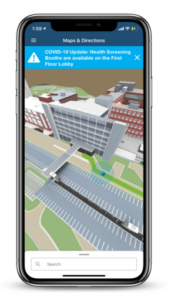 We make it easy to integrate indoor mapping and navigation within the health systems mobile app. It's a real strength of ours. There's an opportunity for health systems that are building out consumer digital strategies to increase staff efficiencies through the technology. When you go into any hospital today, you see that people typically get lost quickly. They depend on the staff of these hospitals to literally walk them around and get them to where they need to go. We are still big believers in having staff take on that role, but in a more limited or efficient scope. With an app that can guide people on their own, we free up time for hospital staff to focus on their critical healthcare responsibilities, rather than escorting patients or visitors to their various destinations.

Q: What would you say is the ROI for hospitals that adopt a wayfinding solution like this?
A: First, appointment no-shows and late-arrivals cost healthcare companies money. The more we can use a solution like this to get people to their appointments on time, the more we help reduce those no-shows and late arrivals.
Second, our solutions can help improve the patient experience in hospitals, which will be reflected by HCAHP surveys, which in turn determine reimbursements for many hospitals. It has become clear that wayfinding solutions are moving the needle on patient satisfaction scores.
Third, we can incorporate all the different locations and departments within a hospital as well as their off-site locations into our framework. This helps people navigate these complex networks by giving them access to all the different points of care within the health system. That helps reduce leakage, making sure that patients don't mistakenly or intentionally go to another health system. The way we designed our solution, a patient can see all those locations—whether they lie inside the hospital or whether patients need to drive to another clinic. And that reduces anxiety and time for patients while improving efficiencies within the enterprise system.

Q: What about the current climate? How can a patient-engagement technology like wayfinding help during an event like COVID-19?
A: Having a wayfinding solution will allow hospitals to better manage the increase in patient volume due to a pandemic like COVID-19. The more people who use the app to navigate, the better off hospitals will be in managing surge events related to pandemics or any other volume stressors. Right now, hospitals are rerouting many of their patients to different areas of the hospital and in some cases different hospital sites based on their level of need. There are many new screening locations, both at the hospital and in the local community that people need directions to. And while the current focus is taking care of our COVID-19 patients, there are many other patients who are ill or injured and who still need care within a hospital or at a satellite clinic. Our digital wayfinding app can help them navigate to their destination safely while limiting exposure to other COVID-19 patients.

Furthermore, hospitals need to update their visitor policies frequently to keep up with the fluid rapidly changing circumstances. Hospital websites provide this information and there may be signage at the hospital entrance. But our wayfinding app can use Bluetooth Low Energy (BLE) beacons to push these visitor policies to the user's phone as soon as they arrive. Patients get the latest policies delivered instantly, eliminating wasted time searching for the most up-to-date preventative measures.
For instance, let's say a patient arrives in a hospital garage. As soon as they pull in, they get a push notification to their phone that gives them the latest information on COVID-19 and then tells them where they need to go to get screened. This is valuable and efficient for all parties.


For more information on Digital Wayfinding,
request a demo
with one of our experts.