Trends, Potential Impact, and Preparation
Mitigating the impact of severe weather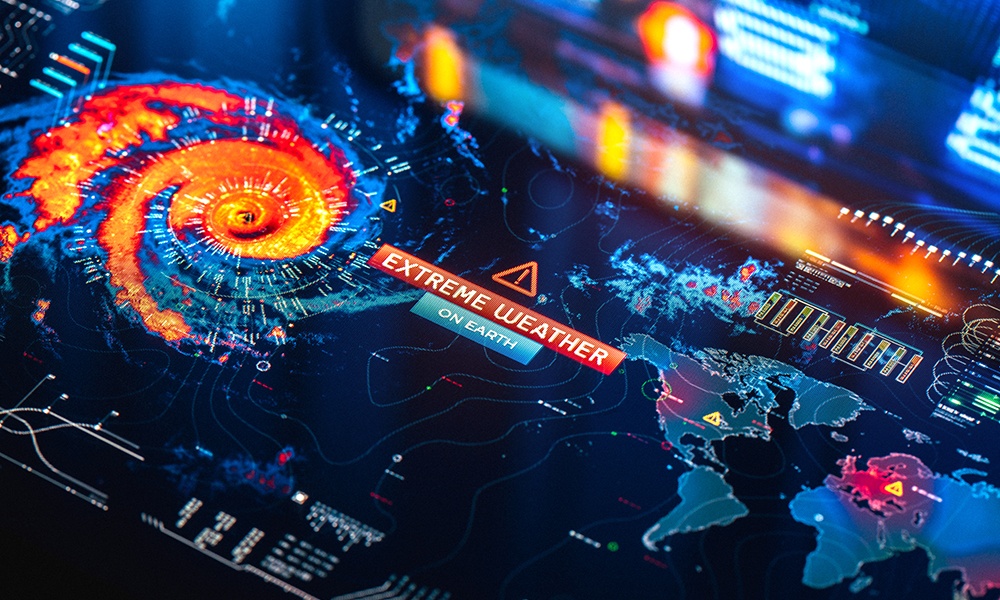 Severe weather puts millions in harm's way each year. By 2050, severe weather and climate-related events could displace 1.2 billion people across the globe, putting communities and the businesses they support at risk. As severe weather continues to threaten more people and cause greater harm, building resilience against natural hazards and climate threats is paramount: the time for governments and enterprises to act is now.
Severe weather trends
Severe weather and climate-related risk events have increased five times over the last decade, causing approximately $137 billion in economic loss each year. Many locations are expected to see a substantial increase in the number of severe weather events such as extreme heat, extreme cold, wildfire, and flooding.
Extreme heat events
Heat waves are occurring more often in major cities across the United States and are becoming more intense. Washington and Oregon were heavily impacted: In Salem, Oregon, temperatures crested at 117°F (47.2°C). The sudden jump from an average temperature of 69.5 to 73.3°F (20.8 to 22.9°C) resulted in excess deaths across Washington State and Oregon. Both states reported that 95 people or more died from heat-related causes.
In the United Kingdom, the increase in heat waves and their duration has resulted in a change in how heat waves are classified across a band of English counties. The change is said to reflect "an undeniable warming trend" in the UK, making original thresholds obsolete.
Extreme cold events
Extreme cold can be just as deadly as extreme heat, especially in areas unfamiliar with cold or freezing temperatures. In addition to risk of life, freezing temperatures can also pose challenges to general infrastructure, electrical grids, and water systems. In the United States, Winter Storm Uri hit a very unprepared Texas resulting in loss of life and major infrastructure damage totaling between $80 and $130 billion. Approximately 4.5 million homes and businesses were left without power as Uri peaked, devastating the electrical power grid.
In Spain, record-breaking snowfall brought Madrid to a standstill. The failure of transportation services amid the extreme cold event pushed authorities to call on military and rescue services. The extreme cold event caused approximately €1.4 billion in damages, with some victims of the storm stuck in their vehicles for 12 hours amid freezing temperatures.
Wildfire events
The escalating climate crisis is driving a global increase in wildfires and bushfires, with a 30% increase predicted by 2050, according to a UN report. "The heating of the planet is turning landscapes into tinderboxes," said the report: and it couldn't be more true. From North America to South America, Europe to Africa, and across Asia and Australia, wildfires are wreaking havoc.
Consider the United States: The Bootleg Fire was one of many fires burning across a dozen states. Originating in Oregon where forests make up nearly half of all land, the Bootleg Fire transformed into a massive inferno half the size of Rhode Island. The fire burned more than 400,000 acres over nearly 40 days. "It was the largest fire in the nation [at the time]," said Technical Account Manager Sarah Batmale at Everbridge. In the United States, wildfires run rampant, with the "damage and accumulative economic loss in the billions."
In 2021, huge wildfires ravaged large regions of Europe: claiming human lives and impacting livelihoods across Greece, Italy, and Turkey The catastrophic fires burned across an area of 130,000 hectares: approximately double the size of New York City. The burned area of the year's fires approaches the sum of burned areas across Greece over eight years.
Flooding events
Like most severe weather occurrences, extreme flooding is also likely to increase as temperatures rise. From Germany to China, the United Kingdom to India, New South Wales to South Africa, and the United States to Nepal, extreme flooding is having devastating consequences.
In Germany, extreme flooding impacted around a third of the inhabitants of Ahr Valley. More than 500 buildings were swept away in the flood, and at least 165 people were reported dead across western Germany. Supply chains across the region were impacted and the total financial damage totaled approximately €1.8 billion. While Ahr Valley is in the process of being rebuilt, with the German cabinet approving €400 million in flood aid, the psychological scars of the event are likely to last forever.
Across South Africa, days of severe storms and flooding have resulted in nearly 400 deaths. More than 40,000 people were affected by the floods, which destroyed or damaged homes and roads across the region. The regional government cities the extreme flooding event as "one of the darkest moments in the history" of the KwaZulu-Natal province.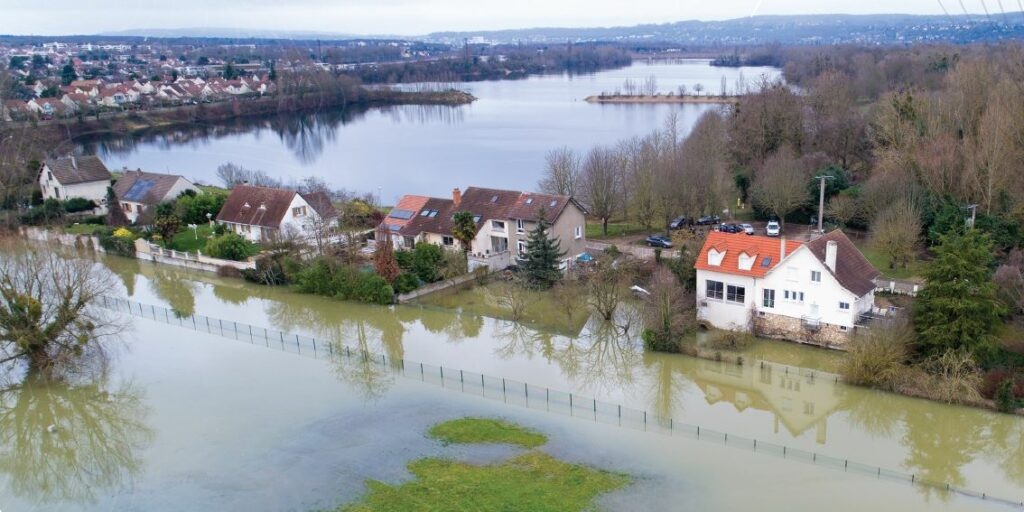 An urgency for action: why enterprises and government organizations should act now
Climate change and severe weather events are top global emergencies for governments and enterprises. "Over the past years, we've collectively seen an increase in severe weather events not only in their frequency, their size, but also how they are interconnected," says Sunita Voleppe, Product Marketing Manager for Public Safety at Everbridge. "This has a direct impact on businesses and their operations as well as government officials responsible for public safety, where the question isn't if something will happen, but when will it happen… and are we prepared for it?"
We can't reverse climate change overnight, but governments and enterprises can act with urgency to better protect their people and assets from harm. Since severe weather events show no sign of slowing or stopping and are currently mounting in severity and overlapping with one another, it's important to act with urgency. By assessing severe weather risk, organizations and governments can better mitigate the impact a severe weather event has, creating a more robust approach to layered severe weather emergencies.
How to best prepare for severe weather and climate-related events
It's important governments and enterprises are prepared for a severe weather event before it happens. Both governments and enterprises experience similar concerns when it comes to severe weather events, such as employee safety, transportation concerns, office closures, and disruption to essential business processes. However, government organizations and private enterprises should prepare for severe weather and climate-related events in slightly different ways.
What steps can governments take to mitigate climate risk and severe weather events?
Governments and public safety organizations are responsible for the safety of their employees and communities. To mitigate the impact of climate risk and severe weather events, governments must ensure their severe weather preparedness plans are broad enough to keep employees, infrastructure, and community members out of harm's way. Part of that means making sure "[governments] have the right technology," says Industry Solutions Manager James Podlucky at Everbridge.
Governments should consider the following when attempting to mitigate severe weather events impacting their business or communities:
Risk assessment: Governments should perform Threat and Hazard Identification and Risk Assessments (THIRA) to understand what natural threats or hazards may impact their community, the potential severity of these risks, and the current capabilities the community has.
Reliable communication: Governments need to be able to communicate with employees and residents before, during, and after a severe weather event. Ensuring communication systems are built for public safety is key. This means systems should be consistently available, capable of messaging large and targeted audiences, secure and compliant, capable of combating false alarms, and flexible.
Interoperability: Weather doesn't respect borders. The ability to receive and share information with other organizations is essential for coordination and collaboration. This means collaborating with other jurisdictions, hospitals, non-profits, and private businesses in the area.
Awareness programs: To build resilience to severe weather, the entire community needs to be considered. Governments should educate community members on what types of risk are in the area, how to use emergency alerts systems, how to prepare for different kinds of emergencies, and where to access resources before, during, and after a critical event.
What steps can enterprises take to mitigate climate risk and severe weather events?
Enterprises facing climate-related risk events must consider their assets, employees, infrastructure, and business processes in their severe weather risk management strategy. To help mitigate the impact of climate risk and severe weather events, enterprises should consider:
Risk assessment: Enterprises should perform severe weather risk assessments for current buildings; and before opening any new facilities.
Reliable communication: Enterprises need to be able to communicate with employees before, during, and after a severe weather event. Ensuring communication systems are easy to use, effective, and accurate is key to keeping employees safe.
Accurate data: Having the wrong kind of data or not enough data can make it difficult for enterprises and CROs to gauge risk and response. To prevent data from impacting severe weather mitigation efforts data must be current, and contacts much be reachable through a variety of verified modalities.
Proper system access: With several employees and locations at risk of severe weather events, system users must have the access necessary to perform the duties assigned.
Employee education: Employees should be trained and educated on how to receive and respond to severe weather alerts to keep themselves safe and operations protected.
Severe weather planning pitfalls and how to avoid them
Severe weather planning should be taken seriously and approached with urgency regardless of if you are new or seasoned in severe weather risk management. Here are some common pitfalls organizations face in severe weather planning and how to best avoid them.
Lack of planning: Many organizations have a plan for common severe weather threats in their area. However, far fewer organizations have a plan for severe weather events that are less common. Taking an all-hazards approach to severe weather preparedness is key to ensuring individuals and assets are safe before, during, and after a severe weather event. Failing to plan for an event, no matter how rare, can exacerbate the impact of a threat and put everyone at an increased risk of harm.
Over-notification: Severe weather events happen all the time. People become desensitized if they are over-alerted about events that do not directly impact them. To combat over-notification, it's important to have SOPs that help message senders decide which events warrant an alert and how to send messages. Preplanning communication cadences and leveraging templates are great ways to reduce communications while maximizing their impact.
Unintentional communication gaps: Being able to coordinate and collaborate with those necessary in a severe weather event is key to maintaining preparedness. According to James Podlucky at Everbridge, "[During] my time in emergency management, we've definitely seen some gaps and some difficulties [in] being able to coordinate and collaborate." Communication gaps can be avoided by having a better understanding of your community. For example, being able to send messages in different languages across different channels in targeted areas helps ensure that everyone receives the correct information in a way that is accessible to them.
Severe weather preparedness: Everbridge severe weather solutions
Having a plan to mitigate the impact of severe weather is a key component of climate-related risk management. However, planning for a severe weather event is no longer enough to guarantee the safety of employees, assets, operations, or community members. To be truly prepared, governments and enterprises must have the right technology to execute severe weather preparedness plans or risk injury to people, assets, and reputation.
Everbridge provides public, private, and non-profit sectors with solutions designed to keep people and operations safe before, during, and after a severe weather event. Everbridge helps create better outcomes for customers facing severe weather and climate-related risk events while improving overall preparedness. Some features of our severe weather solutions include:
Automation: An automated trigger and pre-configured templates helps streamline responses to severe weather events while removing the guesswork and relying on manual intervention.
Push notifications: Connect with employees and community members with speed and reliability. In many cases, people can choose what types of communications they want to receive and how they receive them. For population alerting, messages can be pushed to targeted areas via mobile devices in the incident zone.
Quiet periods: When over-notification risks desensitizing employees and community members to severe weather alerts, quiet periods can be activated. Activating a quiet period allows users to stop receiving alerts, but that doesn't mean employees and community members will remain unaware of a major weather event. With Everbridge, 'major weather events will trigger an override to quiet periods,' keeping people safe.
Richer intelligence: With amplified ad hoc data feeds, organizations receive richer intelligence to correlate threats by quickly accessing the data needed to assess locations of assets and people, ensuring rapid and comprehensive incident assessment and remediation. Location-specific weather information allows organizations to track and alert those in harm's way
Wellness checks: Extreme weather events can impact employees and community members in a variety of ways. With Everbridge, organizations and governments can better gauge employee and community member status to accurately execute the next steps of their severe weather preparedness plans.