Blog
Nixle in action: Looking back on the Rocky Fire
The "Rocky Fire" gained a lot of attention this summer in California as it grew at an alarming rate and displaced over 13,000 people from their homes. Starting on July 29, 2015, the fire spread to almost 70,000 acres within a week. [1] Several agencies, including the Lake County Sheriff's Office, were able to send Nixle alerts to residents with information such as road closures, areas under mandatory evacuation, evacuation centers, and other updates. The fire destroyed almost 100 residences in Lake, Yolo, and Colusa counties. [2]
It's been over a month since the fire was put out, and the Rocky Fire is no longer a headline. However, residents are still dealing with the aftermath of such a tragic and disastrous event. For public safety agencies in effected counties, holding the community together and helping residents get back on their feet are the next steps. Lake County Sheriff's office has continued to send Nixle alerts to help stabilize their community and to keep residents informed. Among the chaos of the fire, several people have gone missing and the Sheriff's office sent out a Nixle alert to seek the help of residents in finding these missing persons. Nixle has proved an important communication tool as so many have been displaced and may be staying in different areas.

Lake County Sheriff using Nixle to notify residents of missing persons
This message gave residents details regarding the last known location and description of the missing persons. When authorities announced mandatory evacuations for the safety of residents, several refused to leave and their safety and whereabouts remain unknown. [3]By having this communication with residents, authorities hope to locate everyone.
When the fire was declared 100% contained, residents were able to come back to their homes, if unharmed by the wildfire. Although the fire has been extinguished, there are still several dangers from the aftermath of such an event. This Nixle alert included a list of safety tips for residents to follow. They warned of open pipe lines and electrical wires as well as trees and brush that are prone to break and fall after being weakened by the fire. To avoid congestions and confusion, they broke up their repopulation efforts into several different phases. By communicating with residents through Nixle, they can retain order as well as be able to reach residents with this important information and instructions.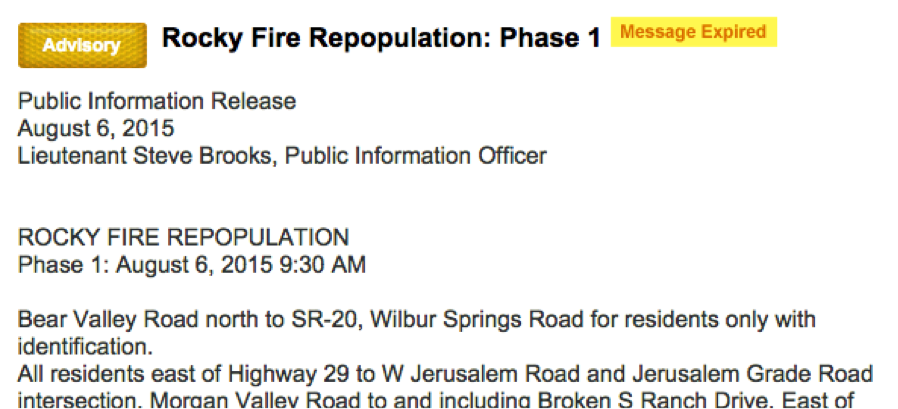 Repopulation after the Rocky Fire
An unfortunate situation in the aftermath of the fire and evacuation comes from those who choose to take advantage of evacuated residents. There have been several cases of burglars caught trying to steal items from vacant homes and businesses. [4] Because access is restricted, violators have been trying to sneak in to these damaged areas. By sending out this message, the community is aware of what is happening and is on alert.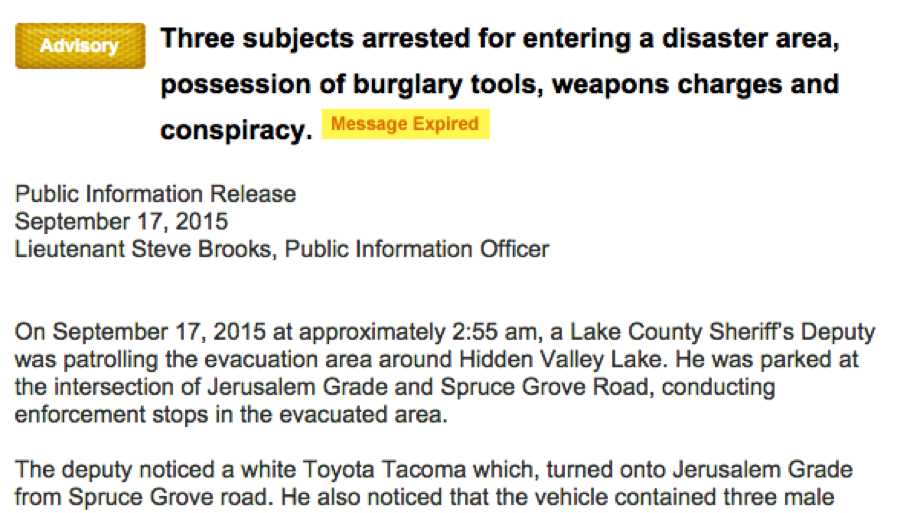 Nixle being used to alert residents of arrest
In further effort to help restore these continues, many companies and communities that reached out to assist in any way they can. Donation centers have been set up as well as funds to help the displaced and victims of this disaster. Agencies have used Nixle alerts to send out information to the community about efforts to help and aid in the aftermath. One alert informed residents of a free cleanup program for all the fire debris that has overwhelmed the area after the fire.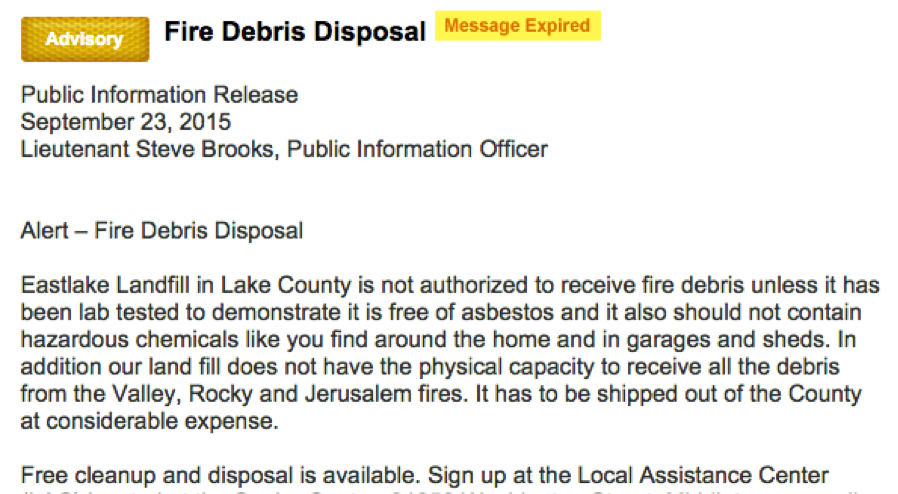 Nixle message regarding fire clean up
Even though the news has not been reporting on these counties as much after the fire was contained, they are still a long way from recovered. Many efforts have been made through local public safety agencies as well as outside support. Nixle has been leveraged by public safety as a tool to keep residents informed about updates to their community.
[1] http://www.pressdemocrat.com/news/4413475-181/dozens-of-lake-county-fire?gallery=4274568
[2] http://www.pressdemocrat.com/news/4413475-181/dozens-of-lake-county-fire?gallery=4274568
[3] http://www.pressdemocrat.com/news/4413475-181/dozens-of-lake-county-fire?gallery=4274568
[4] http://www.pressdemocrat.com/news/4413475-181/dozens-of-lake-county-fire?gallery=4274568