Blog
Nixle in action: Celebrate National Puppy Day
In the United States, it is estimated that over 10 million pets are lost or stolen each year. [1] For many households, pets are a part of the family. To lose a pet can be devastating. On March 23rd, 2006, "National Puppy Day" was founded to help save orphaned puppies across the world by encouraging adoption. National Puppy Day has become an international holiday! [2] In honor of National Puppy Day, we would like to showcase how local law enforcement are using Nixle to reunite missing pets with their owners.
Law enforcement agencies have many priorities; above all they are dedicated to ensuring the safety of our communities. If a pet goes missing, they may not always have the time or resources to search for the missing pet. However many departments are using Nixle to reach out to residents for help in these events. By sending out a single message, the information is spread throughout the community and greatly increases the chances of finding the missing pet.
In Watchung, New Jersey, a family Shetland sheepdog had gone missing. The Watchung Police Department sent a flyer via Nixle to local residents that included a photo of the pet and contact information. [3]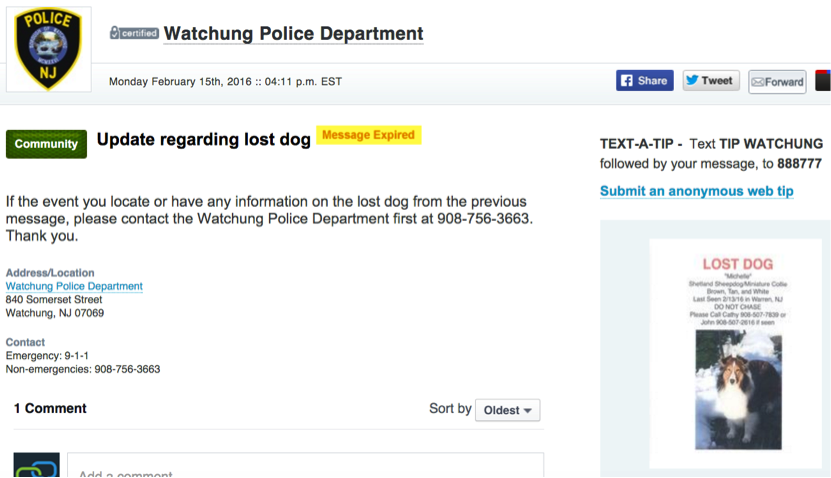 Message from Watchung PD included an anonymous tip option that allows residents to share information without being identified.
Nixle can also be used when a dog is found and law enforcement is looking for the owners. The Madison Police Department found themselves in this exact situation and sent a message to the community about a dog that was found and included the location where the owners could claim him.[4] By using Nixle, they are able to significantly expand their reach and increase the chances of reuniting the owners with the lost dog.
The Gulf Breeze Police Department furthered this idea by creating a Nixle group. By texting LOSTDOG to 888-777 residents could opt-in to receive information about missing pets in the community.[5] Their "Nixle Pet Notification System" created a communication link between the city and residents and led to successful reunions between families and their beloved dogs.
Many law enforcement agencies are using Nixle to allow the community to join the search for missing pets with promising results. Nixle allows messages to be posted directly to linked social media accounts and targets area codes that are nearby the pets last seen location. With holidays such as National Puppy Day, more dogs and other pets are getting adopted into forever homes and Nixle is helping lost dogs get reunited with their families.
If your would like to start receiving public safety messages, simply text your zip code to 888-777.
[1] https://www.petfinder.com/dogs/lost-and-found-dogs/why-microchip/
[2] http://www.nationalpuppyday.com/#!about/c1se
[3] http://patch.com/new-jersey/watchung-greenbrook/can-you-help-find-lost-dog-watchung
[4] https://nixle.com/alert/5291312/
[5] http://www.gulfbreezepolice.com/#!residents/c1cb4