Blog
Nixle in action: The importance of timely communication featuring LAUSD
When students attend school during the week, campus is expected to provide the best education possible in a safe learning environment. On December 15, 2015, following the tragic events in San Bernardino, the students of the Los Angeles Unified School District were notified that schools in the district would be closed as they were deemed unsafe to attend due to a threat of violence. The Nation's second largest school district was shut down and authorities searched some 900 schools. [1]Despite this threat of violence being unverified, public safety and community members demonstrated the importance of proactive emergency preparedness and decided it was prudent to exercise caution by closing the schools.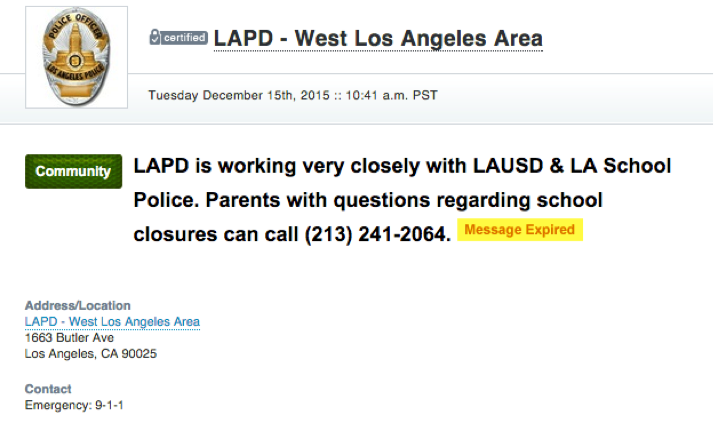 In situations where violence is threatened, it is better for public agencies to be over prepared than underprepared. In addition to the LAUSD calling parents and posting a banner on their website, local public safety officials assisted in providing support to the community. Despite the threat of violence being unverified, the Los Angeles Police Department communicated timely and relevant information via Nixle to community members. The Nixle message below from LAPD is an example of a notification that provided a number for parents to call with questions about school closures.
With more that 640,000 students enrolled in the Los Angeles Unified School District, an effective means of communication was needed to reach such large numbers of residents. [2]The Los Angeles Police Department and Los Angeles County Sheriff Department decided that Nixle was the best tool to utilize to effectively communicate with residents regarding the school closings. The LAPD builds different alert groups for the different area districts through Nixle–making it easier for agencies to send targeted messages to the specific communities. Each district was able to effectively send out Nixle alerts regarding the relevant school closures to residents. Here is an example of how The Mission District of LAPD sent an advisory message notifying residents of the LAUSD school closures.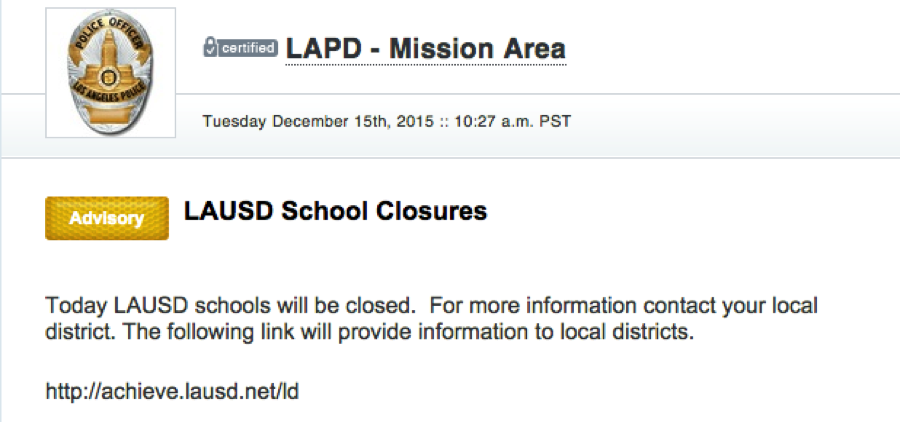 In turn, the LAUSD assisted the Los Angeles School Police Department by providing a number for residents to call into if they saw any suspicious activity.
This combined effort by the area public agencies ensured that the local community was safe and informed throughout the course of scare and subsequent school closures.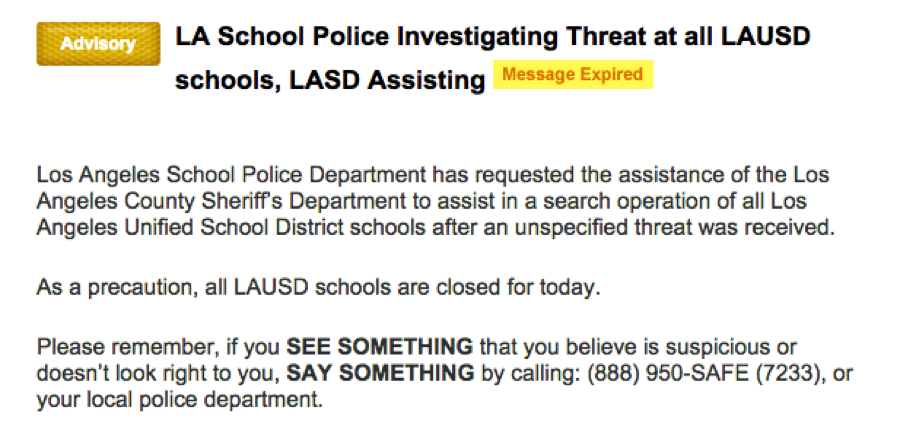 Both the LAUSD and local public safety successfully demonstrated that they are prepared if a similar threat like this occurs in the future. By leveraging Nixle for community engagement, residents were able to receive timely and accurate information surrounding the details of the school closings.
During an emergency, residents rely on law enforcement and public safety to receive the most up to date and accurate information. Agencies who leverage a notification system for community engagement know that the messages being sent out are critical for the safety of their residents. Learn how to maximize the effectiveness of your public safety message in this whitepaper, Best Practices for Creating an Effective Message.
[1] http://achieve.lausd.net/about
[2] http://hexanews.com/2015/12/28/all-lausd-schools-reopen-following-email-threat.html