Blog
Nixle in action: The modern search party
A missing child is a moment no parent wants to think about. Not knowing where your child is or having a way to contact them can be a helpless feeling. The most important tool in this situation is having as many eyes as possible to search for the child. Gathering a search party takes a good amount of time and coordination or resources. If we were able to send out one notification to reach an entire community and alert them of the situation, which can be the difference between someone's happy ending.
In Mitchell, South Dakota, a young boy was reported missing with a "possible threat to life". The Mitchell Department of Public Safety took to Nixle alerts to enlist the community in helping to find the missing 12 year old.[1]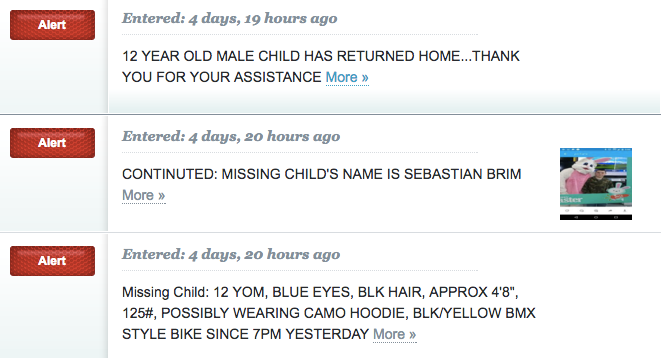 The alerts including details on the child's appearance and a later message including the name and a photo of the missing 12 year old. In response to the alerts, the child was found and the public was notified of his safe return. Such a quick response may not have been possible if it weren't for the use of this technology to instantly reach thousands of people. Everyone who received a message was now able to help by the eyes and ears of the search and report to law enforcement of any news. With almost 800,000 children reported missing each year[2], every tool that can help bring these children home quicker, is beyond valuable.
To ensure you are receiving important Nixle alerts from you local law enforcement, text you zip code to 888-777.
[1] http://www.mitchellrepublic.com/news/local/4016562-missing-boy-returned-home
[2] http://abcnews.go.com/US/missing-children-america-unsolved-cases/story?id=19126967