Blog
Nixle in action: The power of community engagement – Mt. Juliet Police locates missing child
The National Center for Missing and Exploited Children has reported that on average, 2,185 children are reported missing every day.[1] The first hours are crucial when searching for a missing child. It is reported that 47% of children are found within three hours and 94% of children recovered were found within 72 hours. [2]
In Mt. Juliet, Tennessee, a 9-year-old child was reported missing around 6pm. Within 30 minutes, the child was found and taken into safety – Read the full article here.
The reason for such a quick recovery was the notification system that the city of Mt. Juliet has implemented. As soon as they got notice of the missing boy, they sent out a Nixle alert to residents describing the situation. A citizen who had signed up for the alerts spotted the boy and alerted authorities.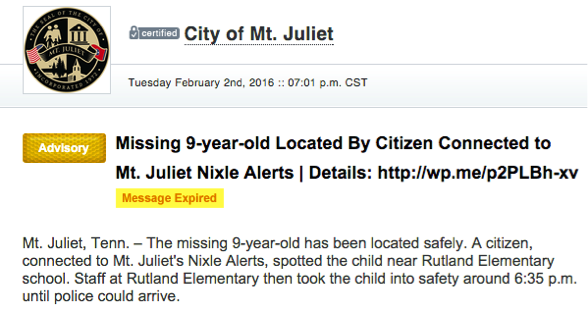 By sending out the Nixle message, the city of Mt. Juliet was able to expand their search party by involving the local residents. Everyone who received the message became another set of eyes and ears to help bring the boy home. Serving as a force multiplier, the use of mass notification as well as social media for community engagement played an important role in bringing the missing child to safety. The city of Mt. Juliet is also very active on their Twitter account and tweeted about the missing boy with a link to the original Nixle alert. With 23 retweets, the message was even further spread by the Twitter community.

The use of Nixle notifications as well as social media has allowed law enforcement to expand their reach within the community, which benefits all. Without these tools, this missing child may not have had such a safe and quick recovery. Encouraging residents to subscribe to Nixle and take an active role in the community makes everyone safer and builds community engagement with residents.
The ability to quickly share information with community members is essential in the success of any public safety agency. From day to day activities such as road closures and water main breaks to large emergency events like a missing child, residents have a need for timely information.
Join us on Friday March 4th for Connecting and Communicating Effectively with Your Residents: A Look at Everbridge Community Engagement. In this webinar, you will learn how Everbridge and Nixle can help your agency share information with residents faster.
Date: Friday March 4th, 2016
Time: 2PM ET/ 11AM PT
[1] http://www.missingkids.com/en_US/archive/documents/FAQ.pd
[2] http://www.reuters.com/article/us-usa-missing-children-idUSBRE83P14020120426