Blog
Reimagining your business continuity program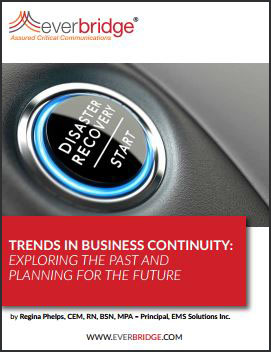 A business continuity program is a staple for organizations that aim to continue to deliver products and/or services following a disruptive incident. However, if these programs do not evolve with time, they could become obsolete. In her white paper, "Trends in Business Continuity: Exploring the Past and Planning for the Future," Regina Phelps, CEM, RN, BSN, MPA, discusses steps an organization can take to reimagine and mature its business continuity program. First, Regina recommends that organizations question everything. There has likely been a lot of time and effort put into a business continuity program, but she says it is critical all continuity professionals consider the following questions:
How can I think about continuity/recovery differently?
How can I deliver similar results, but develop and/or deliver them differently?
Regina also recommends that programs need to be exercised regularly. There's no real way of knowing if a business continuity program will work unless it's tested over time. She says the best business continuity teams have exercises twice a year, or more, with one exercise being a tabletop and other a functional or full-scale exercise. Additionally, Regina recommends:
Reconsider the location of the business continuity team and what department it falls under.
Benchmark against others in the industry, carefully.
Rethink business continuity plans altogether.
Manage information creatively.
Engage with the world in new ways through social media and other channels.
Marketing your business continuity program
To learn more about how you can reimagine your business continuity program, download the full white paper!