Blog
Severe weather response: Could New York and New Jersey handle another Sandy?
"After seeing the devastation on the East coast. I've concluded that Sticks and Stones might break our bones. But Mother Nature can really tear up your stuff."
― Author Stanley Victor Paskavich on Hurricane Sandy, Return to Stantasyland
Just over three years ago, Hurricane Sandy—the superstorm that did the second-most damage in U.S. history—ravaged a wide swath of the Atlantic coast to the cost of 233 lives and $75B in domestic damage.
This past week, Erik Klinenberg, the director of the Institute for Public Knowledge at NYU, penned a piece for The New Yorker, "Is New York Ready for Another Sandy?" And while everyone takes superstorms more seriously now, the answer to Klinenberg's question about severe weather response is sort of a mixed bag. From Klineberg's piece: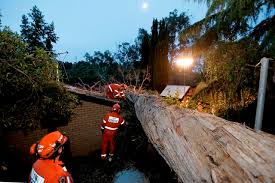 Since then, federal and state governments have spent billions of dollars to rebuild critical infrastructure; hospitals and utilities providers have made major investments in climate security; and "resilience" has become a buzzword in philanthropic and policy circles. Neither adaptation nor resilience is a sufficient response to global warming. Mitigation, which requires converting to an energy system based on renewable resources like sun and wind, is far more urgent. But because the carbon dioxide that we've already emitted will produce many decades of rising sea levels, higher temperatures, and more dangerous weather, we have no choice but to adapt. This week, the third anniversary of Sandy, is a fine time to ask what changes the superstorm inspired, and what work remains.
And here's the scorecard:
Subways: "(D)espite the system upgrades, 'most M.T.A. facilities and operations remain vulnerable.'" NOT READY.
Power Grid: "[A]n energy system that transmits power across wires hoisted on poles that rest beneath trees will always be susceptible to outages in high winds." NOT READY.
Building Codes: "Planning cities for climate change requires going far beyond updated building codes; it also involves … 'pro-building' structures and infrastructures in anticipation of a warmer, wetter, and wilder world. In late 2012, President Obama's Hurricane Sandy Rebuilding Task Force created the Rebuild By Design competition, to promote and develop innovative projects that enhance climate security while also improving the quality of everyday life … In June, 2014, Shaun Donovan, the HUD secretary, announced that the federal government would award nine hundred and thirty million dollars to six winning projects in New York and New Jersey, most of which are advancing toward development." INCOMPLETE
Medical Facilities: "[E]xtreme heat … could mean no power at hospitals for days … That's a code requirement for hospitals in Florida, where they have tropical weather, but not in New York. With climate change, it probably should be here, too." Investments have been made in some hospitals, but not all. INCOMPLETE.
New York's vice-president of emergency management and enterprise resilience, Brad Gair, probably put it best: "No one in New York City is really prepared for a major wind event, and we could be facing Category 3 or 4 hurricanes. The debris from broken windows, construction sites, and even cranes would be truly dangerous."
Surprisingly, one element left unaddressed was the role that emergency notification and critical communication plays – the ability to ensure messages get through to first responders, those in charge of the power grid, and most importantly—residents. While the "Reverse 911" has been the tool of choice for the latter, with the continued shrinking market share for landlines and their propensity to get overwhelmed during high traffic events, it's nearly impossible for emergency personnel to reach all their constituents without using systems that identify different contact paths and communicate in ways that will ensure reception.
Such is the case for Everbridge and our Nixle Community Engagement system, in use by many of the country's largest state and municipal emergency management programs, including a significant presence in New Jersey. During Sandy, Everbridge's severe weather response system successfully delivered more than 10 million messages to recipients–across different devices and contact paths of the recipients preference. Take a look at our recent post, "Revisiting "Sandy" Communications for Hurricane Preparedness Week."
As evidenced by the Sandy example, and in many communities around the country, residents are leveraging our Community Engagement solution to simply text a valid keyword to opt-in to receive information directly from their local emergency management and public information officers. This improves the contact database for these local officials, ensuring that communications can be delivered and consumed effectively and decisively.
So while it wasn't addressed by the New Yorker, we're going to predict that the Tri-State area will be much more PREPARED to reach important audiences for the next severe weather event.