Everbridge Announces 2020 Critical Event Management (CEM) Impact Award Winners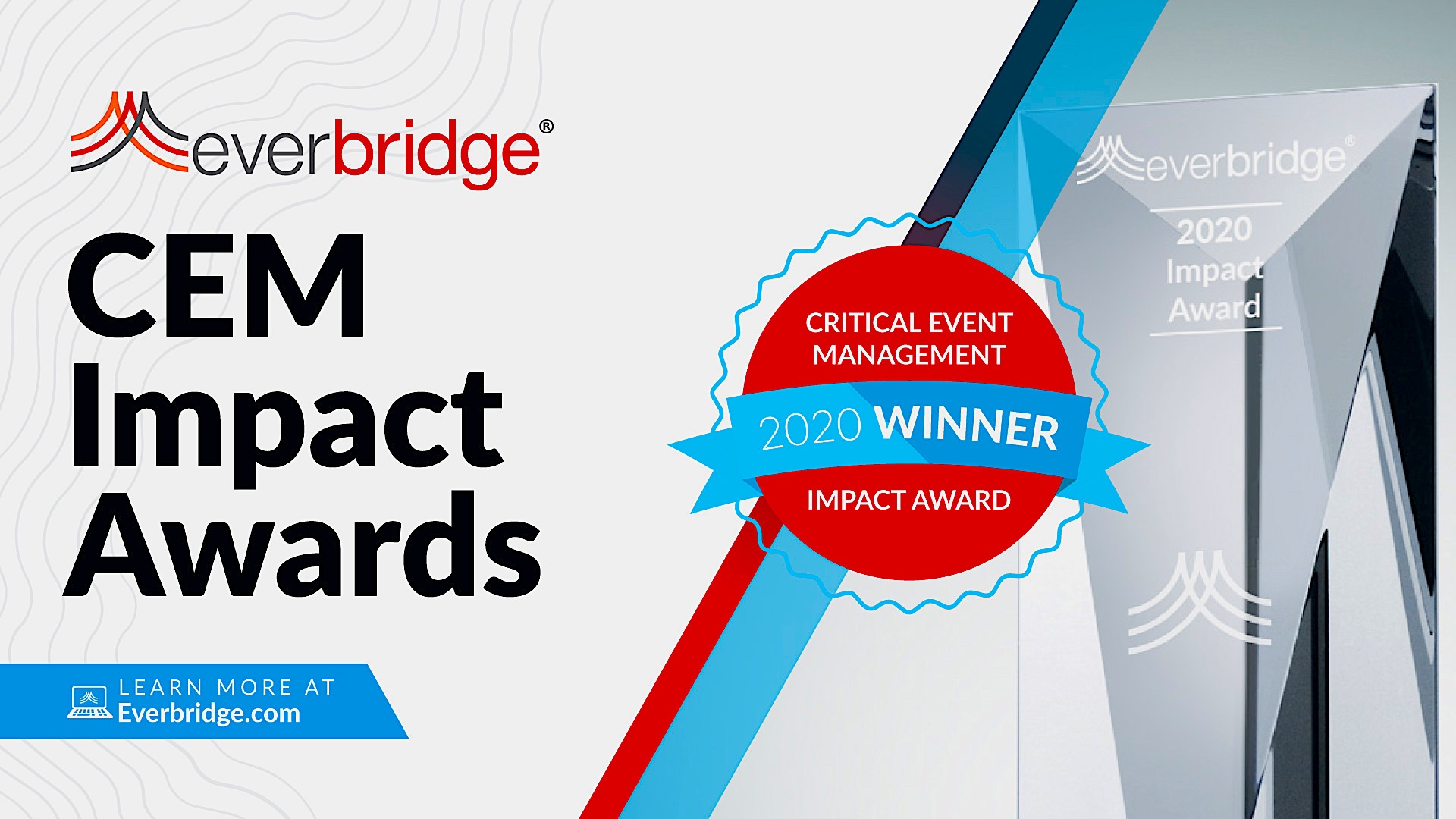 Government and Enterprise Leaders in Security and Emergency Management Honored for Innovative Use of Technology that Helped Mitigate Impact of COVID-19 and Other Crises in 2020
BURLINGTON, Mass., December 22, 2020 — Everbridge, Inc. (NASDAQ: EVBG), the global leader in critical event management (CEM), today announced the recipients of the 2020 Critical Event Management Impact Awards. For the fourth consecutive year, the global program recognized unique, innovative and inspiring use of the Everbridge Platform to support life safety, global security, and business continuity. This year's program comes at a crucial time as the coronavirus continues to threaten lives and operations, creating a challenging environment for all organizations to return people more safely to work, school, and public spaces.
Among this year's awards are new categories inspired by the ongoing efforts to overcome and manage the impacts of the pandemic, including Leading the Response to COVID-19 and Resilience During Concurrent Critical Events. Winners include a diverse mix of individuals and organizations committed to employee safety and incident management and response. Recipients range from global retail and consumer businesses, to state and local government agencies, leading universities, regional airports and healthcare organizations.
"Our customers strive every day to keep their people safe and help their organizations avoid disruption to operations," said David Meredith, CEO of Everbridge. "We are honored to recognize the individuals and teams taking an innovative approach to critical event management in a year rocked by an unprecedented series of crises, from the ongoing COVID-19 pandemic to natural disasters including wildfires and hurricanes to cyberattacks and IT outages. Day after day, we are inspired by our customers' commitment to life safety and operational resilience and are privileged to recognize their actions."
Organizations nominated themselves or individuals on their teams for the annual award. An independent panel of industry experts selected recipients after closely reviewing all submissions, which represent only a small fraction of the many critical events Everbridge handles around the globe each year. The complete list of winners for this year's Impact Awards includes:
Individual Honorees
Leadership Award
Steven Antoine
Chief Security Officer
Yum! Brands, Inc.
Leading the Response to COVID-19
Leigh Ann Moffett
Director of Emergency Management
Southern Methodist University
Best Example of Adopting Technology
Tyler Swearingen
Emergency Preparedness Specialist
Dominion Energy
Best Example of Extending the Reach of Critical Event Notifications
Jennifer Jesty
Emergency Management Coordinator
Union of Nova Scotia Mi'kmaq
Best Example of Using Technology to Combat COVID-19
Jason Dempsey
Emergency Services Administrator
City of Costa Mesa, CA
Organizational Honorees
Innovation and Cost-Savings at the State Level
California Governor's Office of Emergency Services (Cal OES)
City Resilience During Concurrent Critical Events
City of New Orleans
Going "Above and Beyond" Award
Rackspace Technology
Product Expert Award
Dallas-Fort Worth International Airport GIS Team
Best Example of Making an Impact on Business
Customers Bancorp
Corporate Security Group
Best Example of Making an Impact on People
Beaumont Health Senior Services
Best Example of Saving Critical Time
Edmonton International Airport
Operational Resilience Award
The Walt Disney Company
Global Crisis Management & Global Security
Best Critical Event Management Team
HSBC
GSC and HT Business Continuity and Incident Management Team
Best Overall Response to COVID-19
Dentsu International
The CEM Automation Award
Federal Express
The CEM Communication Award
Saskatchewan Royal Canadian Mounted Police
This year's nominees include a global financial firm that uses Everbridge's COVID-19 Situation Reports to track daily coronavirus trends and positive cases as part of its Return to Office efforts; a bank holding company that leverages Everbridge to provide secure end-to-end communications between incident managers and executives, increasing visibility into both the physical and digital sides of its security program; a pharmaceutical company that uses Visual Command Center® to monitor for earthquakes impacting personnel and checking on the safety of employees and their families; an entertainment conglomerate that deploys Everbridge to conduct welfare checks on employees located in the evacuation zone of wildfires and other staff in the path of a hurricane; a heavily-populated international airport that uses Everbridge to assess the status of travelers in the midst of a crisis, creating heat maps of incident zones within its multiple terminal layout and directing law enforcement and first responders to the scene; and a regional government consortium that relies on Everbridge's interoperability to coordinate multi-county communications with residents after flood waters destroyed a major bridge along with fiber cables that carry Internet connectivity for emergency managers.
Past Impact Award winners include BB&T Bank, FedEx Corporation, Santa Barbara County Office of Emergency Management, Comenity Servicing, Biogen, Chicago Transit Authority, Doctor's Hospital at Renaissance, Lowe's Companies, Inc., National Oilwell Varco, New York City Emergency Management Department, South Western Ambulance Service NHS Foundation Trust, State of Connecticut Division of Statewide Emergency Telecommunications, University of Houston, and WellSpan Health.
Winners will receive an engraved statuette honoring their dedication to and excellence in critical event management, be highlighted on social media and on Everbridge's Critical Event Management Impact Awards page, and receive an invite to participate in testing/feedback sessions during new product development.
Everbridge, Inc. (NASDAQ: EVBG) is a global software company that provides enterprise software applications that automate and accelerate organizations' operational response to critical events in order Keep People Safe and Businesses Running™. During public safety threats such as active shooter situations, terrorist attacks or severe weather conditions, as well as critical business events including IT outages, cyber-attacks or other incidents such as product recalls or supply-chain interruptions, over 5,400 global customers rely on the Company's Critical Event Management Platform to quickly and reliably aggregate and assess threat data, locate people at risk and responders able to assist, automate the execution of pre-defined communications processes through the secure delivery to over 100 different communication devices, and track progress on executing response plans. Everbridge serves 8 of the 10 largest U.S. cities, 9 of the 10 largest U.S.-based investment banks, 47 of the 50 busiest North American airports, 9 of the 10 largest global consulting firms, 8 of the 10 largest global automakers, 9 of the 10 largest U.S.-based health care providers, and 7 of the 10 largest technology companies in the world. Everbridge is based in Boston with additional offices in 20 cities around the globe. For more information visit www.everbridge.com