Successfully monitor potential hazards, prepare and responding to incidents, and communicate in ways that reach most people with the right information, keeping them informed and safe.
Please join us for a best practices session on IPAWS Fundamentals.
Companies that navigated the COVID-19 crisis better than others had one thing in common: an emphasis on digital transformation. Learn from Everbridge's CTO, David Starmer.
We recently held a webinar, Return to Campus: Preparing for the Spring Semester. Chief of Police at Yale University, Ronnell Higgins, and Executive VP of Margolis Healy, Dan Pascale, talked about what schools can do to optimize the health of their students and the community at large during the Spring semester.
Chief of Police at Yale University, Ronnell Higgins discussed four concerns he thinks are important to address for campus safety in 2021:
• Reaffirming principles
• Community Engagement
• Transparency
• Organizations and systems to support public safety
Watch this discussion below
To view the full webinar – click here.
This presidential election season is anything but ordinary. The ongoing Covid-19 pandemic has impacted how voting is conducted, and social and political rifts are intense. The election process has also proven vulnerable to potential bad cyber actors and attempted foreign influence. There is a strong probability that official results of the vote will not be known on election night. It is further highly likely that election results will be questioned, challenged, or even deemed illegitimate by a variety of individuals and entities, especially if the results are close.
Large, possibly sustained demonstrations may follow the election. Any potential disruptions may affect transportation networks, business operations, and infrastructure. And still, essential workers must go to work during these disruptions, and remote workers need to continue to work from home safely.
All of the uncertainty surrounding this election season puts pressure on state and local governments, communities, retailers, and other businesses to proactively prepare to respond to any potential disruptions before, during, and after people go to the polls.
Those in your organization should feel confident that the appropriate proactive measures are being taken when it comes to their safety and physical and digital security, no matter what happens— so that your organization keeps running in the face of any emergency resulting from this election season, and most importantly that your people stay safe.
What true impact will this election season have on your organization? Uncertainty has raised awareness on a global scale, but preparedness can mean dramatically different things to different leaders. With the right physical and digital protections and protocols in place, you can assess risk, locate people and assets, act fast, and analyze outcomes to lead during any threat.
A realistic and sustainable strategy to protect assets, customers, and the workforce includes these tactical steps:
Assessing risk: understand the full risk landscape for employees, citizens, and customers
Staying situationally aware: be able to locate employees with full visibility into system security
Knowing when to act: protect workers and the workplace with protocols in place and initiated to respond efficiently
Conducting deep analysis: have visibility into real-time threat detection to act quickly and gather data for future action refinement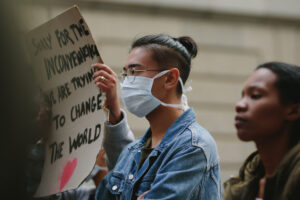 Those who have the responsibility of keeping people safe and organizations running must understand the full risk landscape for employees, citizens, and customers. As the proven leader in Critical Event Management, that's why we're here to help. Contact Everbridge to learn more about staying ahead of any anticipated disruption during this highly unusual and prolonged election season.
Join Everbridge and industry peers to talk about best practices, tips and tricks, and common challenges that the Airports Industry are facing today!
Please join us for an interactive customer-only webinar with the Everbridge Customer Success Team, who will review the basic process to send a Notification from Everbridge.
Through our Risk Intelligence solution, Risk Center, Everbridge has a well-earned reputation for being the fastest to vet and disseminate major and minor risk events. We use this edge to deliver targeted, hyper-local data when it is most useful, arming your operations center with the information they need to respond to any critical event as it's unfolding.