Blog
Everbridge and WebEOC for streamlined crisis management response
Chances are, there's been times when you've failed to respond to an email because it got lost in the depths of your inbox. Or perhaps you've heard from the same person over and over again leading you to tune-out their messages. According to expandedramblings.com, office workers receive 121 emails per day, making it difficult for professionals to dig through the weeds and identify important messages that they might need to follow-up on. Everbridge recently hosted a webinar with Everbridge employees Tom Crane, Technical Account Manager, and Annie Asrari, Director of Product Management along with Walter English, Deputy Coordinator/Emergency Management Planner for the City of Fairfax Office of Emergency Management. As a safety professional, Walter was no stranger to aforementioned topic of email fatigue. Walter and his team are constantly bombarded with emails and many important messages that required action were not breaking through the noise. Walter knew that this was a problem, especially when important updates were posted to their WebEOC crisis management system. Crisis response team members were likely to much more likely to pay attention to a message regarding a WebEOC update when it was delivered to their phones as opposed to sent as an email Watch the videos below to learn how The City of Fairfax, VA uses Everbridge Email Ingestion to trigger multi-modal notifications to their crisis management team members based on changes to WebEOC:
Tom introduces Email Ingestion and how it works with the WebEOC crisis management system, Walter describes use cases and benefits for triggering Everbridge notifications based on updates in WebEOC:
Annie highlights the integration between the WebEOC crisis management system and Everbridge and describes common applications with the Email Ingestion solution: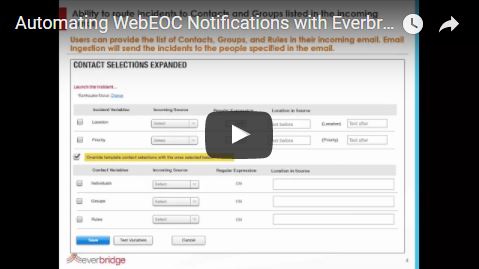 To learn more about Everbridge Email Ingestion. Also, check out our crisis communications topic page for more information on how Everbridge can help quickly deliver information when every second counts.