Join us for Empowering Resilience: Wildfires to enhance your understanding of wildfire management and stay updated on the latest strategies, technologies, and best practices to effectively mitigate the impact of these natural disasters on business continuity.
In today's fast-paced world, organizations face numerous challenges when it comes to ensuring the safety and well-being of their employees during critical events. That's where the integration of E911 and mass notification technologies can make a significant difference. In this blog, we will explore five compelling reasons why organizations should embrace the powerful combination of these emergency management solutions. By understanding the benefits of integrating E911 and mass notification systems, you'll gain valuable insights into how these tools can enhance safety, increase productivity, ensure compliance, improve coordination, and enhance your organization's reputation.
Enhanced safety 
By integrating an E911 solution with mass notification, organizations can enhance employee safety by enabling on-site staff to immediately assist in emergencies and informing the proper stakeholders of emergency situations in real-time.  
By using the most accurate location of the caller, E911 routes emergency calls to the appropriate Public Safety Answering Point (PSAP), enabling the quickest response possible from first responders and on-site staff.
If someone were to dial 9-1-1 from the organization's network, an integrated E911 and mass notification system with incident communications enables response teams to be deployed while security teams, administrative personnel, and office managers are alerted of the emergency in real-time. This not only expedites management but allows businesses to keep other employees safe should the emergency affect them as well.  
For example, if an individual dials 9-1-1 about a fire occurring in a multi-story office building, an E911 and mass notification integration:
Provides emergency responders the exact location of the emergency caller
Automatically alerts security teams to respond to the incident
Notifies other on-site personnel so they are prepared to help responders quickly get to the scene 
If the situation impacts others in the building, organizations can use the same system to send alerts out to those in the building to tell them to evacuate.  To successfully enhance safety, leaders and security professionals also need to understand where their current gaps in emergency management lie. In our recent white paper, "From Chaos to Control," we provide a checklist of the right questions to ask so leaders can easily determine where they need to focus their efforts.
With timely and effective communication, businesses can minimize disruption during emergencies and avoid downtime caused by ineffective response. 
Increased productivity  
According to a 2023 Total Economic Impact™ Study conducted by Forrester Consulting on behalf of Everbridge, recaptured employee productivity amounted to $861,000 over a three-year span with implementation of a mass notification solution like Everbridge. For security teams, the increased productivity totaled $607,500 annually*.
The study showed a 25% reduction in downtime attributable to Everbridge solutions as a result of earlier alerts and faster response team communication.  
A Global Security Operations Manager featured in the study stated, "[We were] manually uploading employee addresses into online maps and then, as an incident occurred, teams were pushing the incident onto the map trying to figure out what the potential impact was. The process was very manual and tedious." 
With an integrated E911 solution and mass notification system with incident communications, organizations can expand their real-time insights on potentially disruptive emergencies, giving them more time to avoid impact and protect employee productivity.  
Compliance 
Investing in E911 and mass notification with incident communications can help businesses comply with federal safety regulations, created by agencies such as the Federal Communications Commission (FCC) and the Occupational Health and Safety Administration (OSHA), and protect them from potential legal liabilities.  
OSHA has developed safety standards that require employers with 10 or more employees to have a documented emergency action plan in the workplace, available for employees to review. Off-site or work-from-home employees are not exempt from federal laws regarding employee safety.  
With a mass notification system in place, organizations can have multiple emergency action plans ready for review and activation should a critical event occur. Managers can automatically send real-time alerts and instructions to groups and individuals during critical events and benefit from two-way communications to ensure all their people are out of harm's way. 
Additionally, regulations are now in place that require the use of E911 technology:
Kari's Law requires direct dialing to 9-1-1 and automatic notification to front desk or security personnel.   
The RAY BAUM's Act requires organizations to provide a "dispatchable location" of an emergency caller to the emergency call center or PSAP, which includes their detailed location information such as a street address, floor, apartment, or suite number. 
E911 solutions ensure organizations maintain compliance with both Kari's Law and the RAY BAUM's Act by finding emergency callers, routing their calls to the nearest emergency call centers, and notifying the appropriate security or administrative personnel. Most importantly, E911 helps companies protect their workforce, especially as mobile and work-from-home models become more common.  
Together, E911 technology and mass notification with incident communications systems ensure organizations remain 100% compliant with federally mandated regulations.
Improved coordination 
When E911 and mass notification solutions are paired together, organizations can reduce the time it takes to alert the proper individuals or groups about the existence of an emergency within their network. This allows for improved coordination and can provide extra time to better manage critical events.  
Take Santander as an example, the 16th largest banking institution in the world, which has over 400 branches across the Eastern U.S. alone. After implementing Everbridge Mass Notification, they reduced their time to notify employees by 100%. They saved 10-15 minutes for every alert and potentially up to 30 minutes for the entire notification lifecycle.  
With Everbridge E911 integrated with Mass Notification, organizations can automatically alert managers whenever an emergency call is made from the organization's network in addition to risk events such as severe weather, IT disruptions, or physical security disturbances. This provides a holistic view of potential risk and enables teams to coordinate response more quickly, no matter the type of event they are managing.  
Improved reputation
When organizations demonstrate an active commitment to employee safety and prioritize duty of care to employees, they can positively influence their reputation. Employees who feel protected and safe in their workplace are much more likely to remain with their company, which improves retention rates and helps overall brand image.
To further improve retention rates, organizations must actively uphold their duty of care, not just discuss their commitment to the concept. This requires businesses and security professionals to prioritize effective emergency management and response to physical and digital threats that might impact their teams. Implementing an integrated approach to mass notification and E911 helps organizations more quickly identify emergencies and take the proper steps toward resolution to best protect their employees and make sure they feel safe and secure.
Build more resilient operations
The integration of E911 solutions and mass notification technologies is a crucial step for organizations looking to enhance their emergency management capabilities. By leveraging accurate location data and real-time communication channels, organizations can significantly improve employee safety during critical events. Furthermore, the integration of these tools boosts productivity by minimizing disruption and response time, ensuring business continuity. Compliance with federal safety regulations, such as Kari's Law and the RAY BAUM's Act, becomes seamless with E911 and mass notification systems. The improved coordination and faster response provided by these integrated solutions empower organizations to handle emergencies efficiently and mitigate potential risks. Lastly, by prioritizing employee safety and demonstrating a commitment to duty of care, organizations enhance their reputation and foster a positive work environment.
In today's unpredictable world, integrating emergency management tools is not just an option; it's a necessity for organizations that value the well-being of their employees and strive for operational resilience.
To learn more about the importance of integrated notification and response systems in emergency situations, we invite you to read our latest whitepaper, "From chaos to control: the importance of integrated notification and response systems in emergency situations."
Take the proactive step towards building resilience and gaining control during emergencies with Everbridge.
*Study results were based on a composite organization comprised of interviewees with experience using the Critical Event Management (CEM) platform. 
In this guide, we will cover the three primary reasons why tornado preparedness is vital for the success of emergency managers.
A Q&A with Lee O'Sullivan, Everbridge Head of Global Security Operations
Countless factors could impact your employees' well-being while on the road—from severe weather and natural disasters to geopolitical conflicts. When incidents occur, Everbridge has organizations covered. Our comprehensive traveler assistance service is designed to address any event that could impact the health, safety, or wellbeing of a corporate traveler. We have a wealth of experience in successfully extracting travelers from scenes of crisis, outbreak of war, or other life-threatening incidents.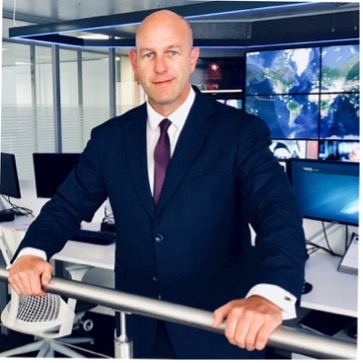 What are the ways in which you meet specific requirements for protecting business travelers, including security training and preparation, kidnap and ransom insurance, and evacuation protocols?
When we receive any type of security request to support business travelers, whether they are executives, whether it's the CEO, whatever level they're at, the process begins with a risk assessment that looks at several different elements of what we would call their "risk profile." Those elements can be the company itself, the individual, their itinerary, the reason they're traveling. We pull all this information together and provide a recommendation on the appropriate level of security for that individual. If we're looking at high net worth or senior executives, they have a higher risk profile, because they may be more likely to be targeted because of who they are, what their role is, be that on business, travel, or in their personal life. In most cases, we would recommend some form of security for a senior executive.
We also think about what needs to happen before the trip. First, is there some form of training that either that individual, or the security team, or the management team needs to receive? If we've identified there's a high kidnap and ransom threat as part of our risk assessment, we may suggest that the individual travelling receives some form of Kidnap & Ransom (K & R) training on indicators that they're being targeted and what to do if they are kidnapped. Additionally, we can offer training for the management team on what to do if there is a kidnap situation.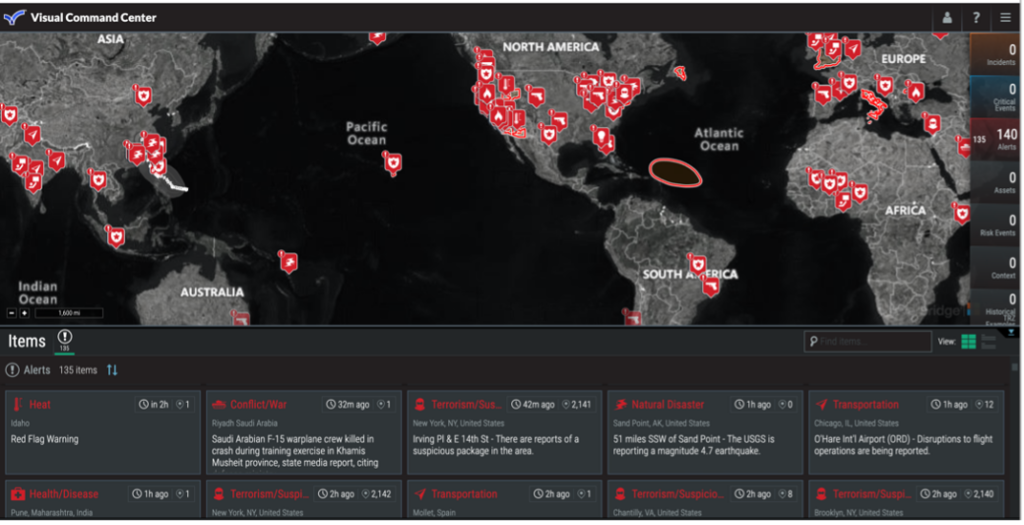 We put all of this under a broad description of what we call "secure journey management" and there are a number of different services that we provide as part of that. At its most basic level, it provides a security team to move people from points A to B. Additionally, we look at what contingency planning needs to be in place prior to the trip. If there is a security incident of some type, how do we plan to respond? One of our core services is global security assistance. We've got a proven pedigree of providing support to clients on a global scale. So, if there is an incident and we need to evacuate an individual, we've already got procedures and processes set up.
What are some of the most important considerations when dealing with expats and business travelers?
Today, people often require a little bit more assistance than they might have prior to 2020. At the same time, the expectations of what can be provided globally may not always be achievable because different countries have different services available to travelers. We feel that we can best manage people's expectations by excellent and thorough preparation and personal contact with our subject matter experts when required.
Can you discuss the challenges associated with travel risk management for the executive traveler demographic?
I'd probably say one of the biggest challenges that we face with a lot of senior executives is they feel that they don't want security. Therefore, we have to balance their wishes with the company wanting some form of security to be in place. We have several ways of approaching this. For one, not all security is provided in an overt manner. For example, if a client feels he doesn't want security because he feels he doesn't want an overt security team surrounding him providing that deterrent or protection, we can provide a more low-key, low profile security team that's more in the background, but still there if something does go wrong.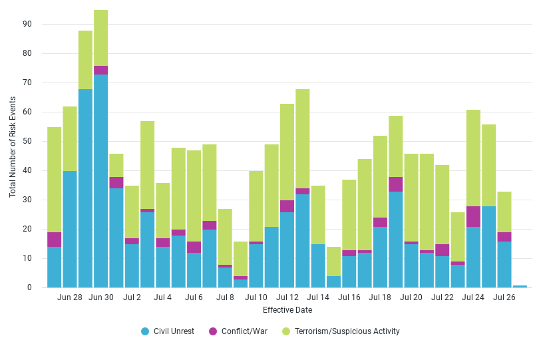 If they're completely hostile to a security team being there with them, we can have a security team that's on standby, able to deploy if there is some sort of security incident. At the very least, what we can look to have some sort of tracking device with them; so, if something goes wrong, we know where they are, and we can deploy. Then, we have the final option of having no security, in which we then go back to training. If you're not going to have a security team because you're hostile to any form of security, we can at least give you some personal security training that enables you to identify certain risks and how to respond.
Could you share some experiences and lessons learned?
I would say the biggest lesson of the last few years has been that we need to be agile to respond to so-called unexpected events, be it a viral pandemic, global lockdowns, energy shortages, wars, or natural disasters. We can never rest or think we have achieved the perfect model of providing [security] assistance. Instead, we need to constantly examine how to provide the best possible service for our clients. The combination of high-end technology, our travel apps, and our [security] colleagues, make it possible for us to respond to each situation in a bespoke fashion.
Additionally, we've learned that the most important part of providing any level of security to any individual traveling is intelligence and planning. It's getting as much information as you can, not only about the location that they're going to, but building that risk profile by identifying potential vulnerabilities and potential risks.
Maybe something as simple as they've never visited a certain region and they're not aware of the cultural norms. Just by not being aware, they could potentially put themselves into a hazardous situation where they say or do something that's not accepted in that country. When you are providing protection, it's unwise to overly focus just on that physical security team. Most of security operations are based on a lot of contingency planning and a lot of intelligence research.
Speak to an Everbridge Resilience Expert: To speak with Lee or a member of our Everbridge team related to travel risk management, please contact comms@everbridge.com.